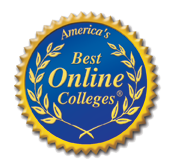 Hannibal-LaGrange University has been designated as one of America's Best Online Colleges by Institutional Research & Evaluation, Inc.
Master's Programs
HLGU's master's programs are accelerated, completely online programs designed for the working adult. At HLGU, we believe in providing stellar education in a timely manner to our students. All of our master's programs are offered in five-week courses. These courses contain as much information as a traditional on-campus course. The pace is intense, but after as little as 50 weeks our students earn their master's degree.
Master of Arts in Leadership
With tracks in: Christian Ministry and Business Management
Graduate Programs in Education
Both a Master of Science in Education and Master of Education in Education Administration

The mission of the Adult and Graduate Studies Division is to provide an excellent education that is accessible, innovative, and is offered in a distinctively Christian environment that integrates Biblical worldview and learning in preparing graduates for personal and career effectiveness.

Bachelor's Programs

HLGU Online's Business Management and Criminal Justice are degree completion programs that can be completed in as little as 18 months, completely online.

HLGU's RN to BSN is a degree completion program that can be completed in as little as 1 year, completely online.

Individual Online Classes

Many general education classes are available in an online format. Check the current schedule of classes for more information on what classes are being offered.

HLGU online classes are 3-credit hour courses that are taken in a five-week or eight-week term. This online option provides learners with an opportunity to advance their education at their own convenience. One student recently said, "I really like the way online classes work. I feel like I learn a lot through them. It requires a lot of independent studying and exploration. I also enjoy being able to do the work at my own pace. I can do the work in chunks when I need to or work ahead."

For more info, you can fill out our online form. You can also contact Gail Barrowclough at gail.barrowclough@hlg.edu or call 573.629.3183 if you have any questions or would like to register for a class.