The Solution for Working Registered Nurses
The RN to BSN Program is developed for the associate degree or diploma RN who desires to obtain a Bachelor of Science in Nursing degree with convenience and flexibility.
Convenience
100% of courses are offered online. Complete assignments from anywhere with an internet connection. Complete course work around your individual schedule.
Flexibility
Courses are structured to allow students the flexibility to complete the program as quickly or slowly as they desire. The online program can be completed in 12 months. Students work with an advisor to develop a plan of study which meets their individual needs. Plans can be changed at any time, as student needs change.
Course Structure
Course work is 100% online. No need to come to campus.
8 week courses
Students can begin classes during any 8 week session (January, March, June, August, October)
Students choose how many courses they want to take at a time.
Students receive credit for an active RN license
HLGU RN to BSN Request for More Info
Accreditation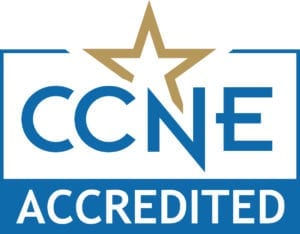 The RN to BSN Program at Hannibal-LaGrange University
is accredited by the Commission on Collegiate Nursing Education,
One Dupont Circle, NW, Suite 530, Washington, DC 20036, (202) 887-6791