Bruce Capp
Chair, Division of Social Science; Chair, Department of Criminal Justice; Assistant Professor of Criminal Justice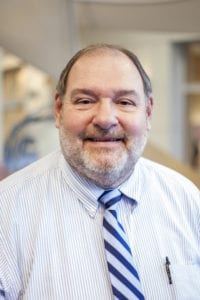 Bruce Capp joined Hannibal-LaGrange faculty as an Adjunct Professor in Criminal Justice during 1996, teaching two classes per semester, as well as in the degree completion program since its inception. He joined HLGU as an assistant professor in 2012.
During 2012, Mr. Capp retired from the Missouri Department of Corrections' Division of Probation and Parole after 26 years of service to the state as a Probation and Parole Officer II. His area of expertise involved conducting sentencing investigations on criminals for circuit judges in an eight-county area of northeast Missouri.
Prior to this, Mr. Capp was appointed a Hannibal, MO police officer in 1978, in the Patrol Division. In 1980, Mr. Capp was assigned to the Criminal Investigation Unit, where he conducted criminal investigations on felony offenses and acted as a liaison to the Marion County Prosecuting Attorney's office.
Mr. Capp believes that HLGU's motto, "Knowledge for Service" applies to a higher degree for those who choose to join the Criminal Justice system as their mission field. "The principles of Luke 6:31 are stressed to our students, which exhorts us to 'Do unto others as you would have them to unto you'. Remembering that principle when dealing with the disadvantaged, the sick and those who are poorly educated on our streets is the Christian law enforcement officer's avenue to personal and career effectiveness."
Mr. Capp is married to the love of his life, Tonia. They have one son, Benjamin. Tonia is retired from the Hannibal Public School District. They are members of the Monroe City Christian Church. Mr. Capp enjoys sports, reading and traveling. He has spent his life since age 10 on the campus of HLGU with past professors, church friends and current colleagues. He says, "It is home to me."
Educational Background
M.A. Law Enforcement and Justice Administration, Western Illinois University, 1995
B.S. Law Enforcement and Corrections, Truman State University, 1978
Awards & Achievements
Outstanding Young Men of America, 1986
International Association for Identification
Hannibal Community Theatre Board of Directors, 1983-1986
Missouri Corrections Association
Missouri Probation and Parole Officers Association
Professional Experience
Hannibal, MO Police Department, Patrol Officer; Criminal Investigator, 1978-1986
Missouri Department of Corrections, Probation and Parole Officer II, 1986-2012
Missouri Department of Public Safety, POST Program Instructor, 1986-2012