Robert D. Bergen
Distinguished Professor of Old Testament Emeritus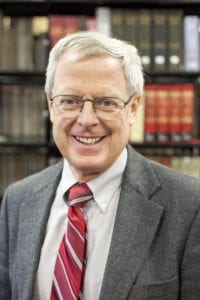 Dr. Robert Bergen is more than thirty years into his career at Hannibal-LaGrange University. He has also served as a Bible translator for three different Bibles: The New Living Translation, the New Living Translation 2.0, and the Holman Christian Standard Bible. He published commentaries on the biblical books of 1-2 Samuel in the New American Commentary series, the Holman Old Testament Commentary series, and the Shepherd's Notes series. In addition, he contributed the footnotes for some Old Testament books in the Apologetics Study Bible (Exodus, 1-2 Samuel) and the Holman Christian Study Bible (Genesis), and has contributed numerous articles to the Biblical Illustrator magazine.
During the Fall 2016 academic term, Dr. Bergen and his wife Dr. Martha Bergen had a teaching Sabbatical at the Canadian Southern Baptist Seminary & College in Cochrane, Alberta. They taught master's-level courses in the seminary.
Dr. Bergen says his greatest interest is in knowing God better. He loves reading God's Word, especially in the Hebrew and Greek. He enjoys researching and writing about Biblical Hebrew discourse linguistics, and writing commentaries on Old Testament books. His favorite hobby is nature photography. He especially enjoys getting outdoors and photographing birds, insects, and landscapes. He also enjoys watching old Andy Griffith Shows and reading up on various scientific topics.
"I have a passion to teach students the academic disciplines of Old Testament and Biblical Hebrew," says Dr. Bergen. "Nothing is more satisfying professionally than helping students discover and appreciate the remarkable stories and truths found in God's Word. For me, the Bible is a living book, and I enjoy the challenge of helping students get to know the people of the Old Testament–helping them see themselves in the individuals whose life stories are unfolded in the pages of first 39 books of the Bible."
Educational Background
Southwestern Baptist Theological Seminary - PhD, 1986
Southwestern Baptist Theological Seminary - MDiv, 1980
Hardin-Simmons University - BA, 1976
Teaching Areas & Research Interests
Old Testament
Biblical Hebrew
Publications
Holman Christian Study Bible - Introduction and Study Notes for Genesis (2010)
I & II Samuel, Holman Old Testament Commentary - Author of Introduction, 2 Samuel (2009)
Apologetics Study Bible - Introduction and Footnotes for Exodus, 1-2 Samuel (2007)
Holman Christian Standard Bible (1 Samuel, Exodus) (1998-2002)
New Living Translation - Revision (Exodus) (1998-99)
I, II Samuel - Shepherd's Notes (1998)
1, 2 Samuel - New American Commentary (1996)
Biblical Hebrew and Discourse Linguistics - Editor (1994)
New Living Translation (Exodus) (1989-90)
For a complete list of Dr. Bergen's publications, view his curriculum vitae.