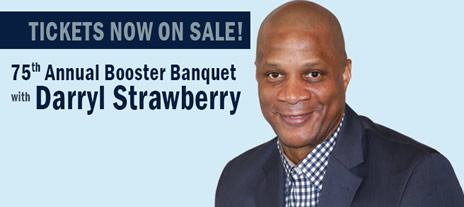 by Rebecca Sneed
Tickets are now on sale for Hannibal-LaGrange University's 75th Annual Booster Banquet which will feature Darryl Strawberry as the keynote speaker. The banquet will be held Friday, November 11, 2016. Ticket purchases are well underway.
Strawberry is a former Major League Baseball right fielder, known for his fearsome home run hits and intimidating 6'6″ presence in the batter's box. During his 17-year career he logged 898 runs, 335 home runs, and 1000 RBIs. From 1983 to 1999, he played for the New York Mets, the New York Yankees, the Los Angeles Dodgers, and the San Francisco Giants. Named Rookie of the Year in 1983, he was an eight-time All-Star player and a member of four world championship teams. During that time, he was also suspended three times by Major League Baseball for substance abuse. All throughout his MLB career, Strawberry struggled with drinking and drug addiction.
Today, Darryl's purpose and passion is serving the Lord Jesus Christ by speaking a message of hope and helping others transform their lives through the power of the gospel. He is an ordained Christian minister and author of the book "Straw: Finding My Way," his memoir published in 2009.
This year's Booster Banquet is sponsored in part by HNB Bank. Tickets for the banquet have been on sale for only a few short weeks. General admission tickets are selling well and nearly all executive tickets have been sold. Prices are as follows.
$60 General Admission Ticket – (before October 28) Includes banquet admission
$75 General Admission Ticket – (on and after October 28) Includes banquet admission
$200 Executive Admission Ticket – Executive ticket includes reserved parking, private reception with Darryl Strawberry, and a reserved seat at the banquet. The private reception will be from 5:30 to 6:30 pm. Guests will have the opportunity to have a photo taken with Darryl.
$1500 Sponsor a Round Table – Includes eight executive tickets for a special price.
Due to the limited amount of executive tickets, call the office of institutional advancement at 573.629.3124 to purchase them by credit card only.
For more information, please contact Lauren Youse, director of alumni services and development, at 573.629.3126, or via email at lauren.youse@hlg.edu.