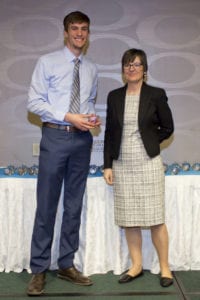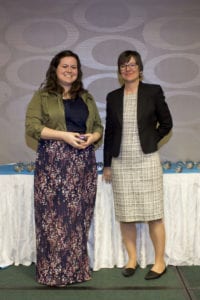 The Missouri Association for Colleges of Teacher Education (MACTE) recognizes Reid Echelmeier '16, and Ashley Foreman '15, as two of the state's Outstanding Beginning Teachers. Both graduates of Hannibal-LaGrange University, Echelmeier is in his first year of teaching high school English in Bowling Green, MO, and Foreman is in her second year of teaching fourth grade at Gratz Brown Elementary in Moberly, MO.
"The HLGU Education Division is proud of both Reid and Ashley for being recognized as outstanding beginning teachers!" said Dr. Larinee Dennis, chair, division of education.
HLGU offers 13 undergraduate degrees in early childhood education, elementary education, and secondary education. The University also offers a Master of Science in Education in special reading, teaching and learning, and teaching and learning with initial certification, as well as a Master of Education in Education Administration in elementary and secondary principalship.
The Outstanding Beginning Teacher Awards recognize teachers in their first two years of service who demonstrate excellence in serving children in school districts across Missouri. Only 59 of the approximately 8,000 teachers who were certified in the last two years were given engraved glass apples for their dedication and service to Missouri's schools and communities. Award recipients were selected based on recommendations from Missouri's state and nationally recognized teacher education programs, and a recommendation from candidates' school districts.
"I admire [Reid Echelmeier's] positive approach to each day. When challenges arise, he is flexible and great at improvising while continuing to challenge his students," said Brock Bailey, principal at Bowling Green High School. "[He] performs all of his duties in manners that we have described as well beyond his years of experience. It has been a pleasure to help Mr. Echelmeier begin his career, and I am very encouraged that I am able to have Reid as a professional in our building."
Angie Doss, principal of Gratz Brown Elementary, said that, "Ms. Foreman has a great rapport with her students that uses humor and set expectations to keep her room a safe environment for learning and risk taking, yet orderly and smooth. She allows for students to be independent learners and encourages them to work together and have meaningful conversations about their learning."
At the ceremony, awardees were challenged to continue their work by creating fair classrooms through a pedagogy of care in a professional development session conducted by Dr. Lauren Arend, professor of education at Saint Louis University, and to be stalwarts for democratic thought during the keynote address by Dr. Julian Vasquez-Heilig, professor of educational leadership at California State Sacramento. MACTE recognizes the contribution of these fine teachers, as well as all of our excellent, highly qualified teachers throughout Missouri's who serve and educate our students.
MACTE is a state affiliate of the American Association of Colleges for Teacher Education (AACTE), and serves as the voice for educator preparation programs across the state. The ceremony was held at the Columbia Conference Center in Columbia, Missouri, and was hosted by MACTE President Dr. Diana Rogers-Adkinson, MACTE President-Elect, Dr. Alexander Cuenca, and members of the MACTE Executive Board.