When Drs. Bob and Martha Bergen read an email from a friend serving as the academic dean of Canadian Southern Baptist Seminary and College in May of 2015, they were caught by surprise. Instead of a simple newsy update from their long-time friend Dr. Steve Booth, the Bergens had received an invitation to spend the fall 2016 academic term in Canada teaching master's-level courses for that nation's only Southern Baptist seminary. Four of the seminary's courses, two in Christian Education and two in Old Testament, needed instructors with doctorates, and as Booth saw it, the Bergens would be the perfect fit for their needs since Martha holds a doctorate in Christian Education, and Bob has one in Old Testament.
The Bergens had done eight short-term teaching stints at other graduate institutions during summer terms in the past, but they had never taught at another institution during a regular semester.
As Dr. Martha Bergen noted, "Canadian Southern Baptist Seminary had a need, and Bob and I prayed about what God would want us to do to help them for the fall 2016 term. We sensed the Lord wanted us to pursue this opportunity." But much would be involved to make the missions teaching opportunity a reality.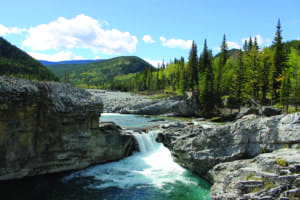 "We knew being away from Hannibal for an entire semester would require Hannibal-LaGrange to make some adjustments," Dr. Bob Bergen noted. "Besides teaching courses at HLGU, I'm also the associate academic dean; Martha teaches several courses, directs the ministry guidance program, and serves as the Christian studies division chairperson."
So the couple set up an appointment with HLGU's president, Dr. Anthony Allen. Dr. Allen supported the idea of letting the Bergens teach one term in Canada, and with the consent of the trustees and much behind-the-scenes work by Dr. Miles Mullin, HLGU's Vice President for Academic Administration, arrangements were made for the couple to take a sabbatical leave from August through December 2016.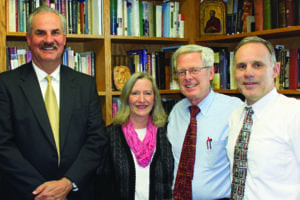 Preparing to live outside the United States for four months required extensive preparations for the Bergens. Passports and work visas had to be obtained; arrangements had to be made for pets, the house, yard, and utilities; and packing had to be done for Canadian summer, fall, and winter weather conditions. And of course, the couple also had to make a two-thousand mile road trip across an international border to Cochrane, a town in the western Canadian province of Alberta.
"A lot was involved in getting us to Canada, but it has been more than worth it to be here," said Dr. Martha Bergen. "The seminary is like a family—the administrators, faculty, staff, and students are wonderful to work with."
Martha taught courses on effective Bible teaching, as well as spiritual formation; Bob's courses dealt with 1-2 Samuel and Biblical Hebrew.
How does teaching at Canadian Southern Baptist Seminary compare with teaching at Hannibal-LaGrange University? "There are differences," said Dr. Martha Bergen, "The classes we teach here are on the master's level and the students come from a wider range of backgrounds. Much of what I teach does not compare with what is done on the bachelor's level. However, both institutions share commonalities when it comes to their purpose and a desire to train students to use their gifts and abilities to serve God."


Though seminary course-related work keeps both of the Bergens quite busy, they have found time for other activities. They attend spiritual and social activities at the seminary and even co-sponsored and prepared food for an all-school fellowship. On Sundays they have helped teach an adult "Connection Group" (think Sunday school) at Bow Valley Baptist Church. They have also spent time visiting several of the area's beautiful national, as well as provincial, parks.
"Nature photography is a hobby for both of us. The rivers, lakes, and snow-capped mountains around here are fabulous, and large wild animals are abundant. We've photographed grizzly bears, elk, white-tailed and mule deer, bighorn sheep, and coyotes," stated Dr. Bob Bergen.
Dr. Martha Bergen comments, "We are grateful for Hannibal-LaGrange University's sensitivity to the missions need at Canadian Southern Baptist Seminary—and grateful that we are the 'missionaries' privileged to help meet that need at this time in her history. Our lives and ministries have been enriched by the experience."
---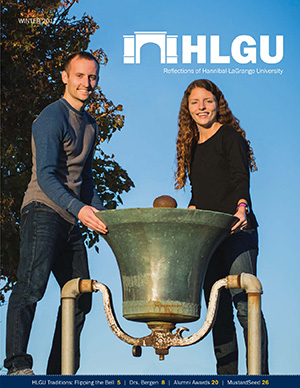 This article first appeared in the Winter 2017 issue of the HLGU Alumni Magazine.