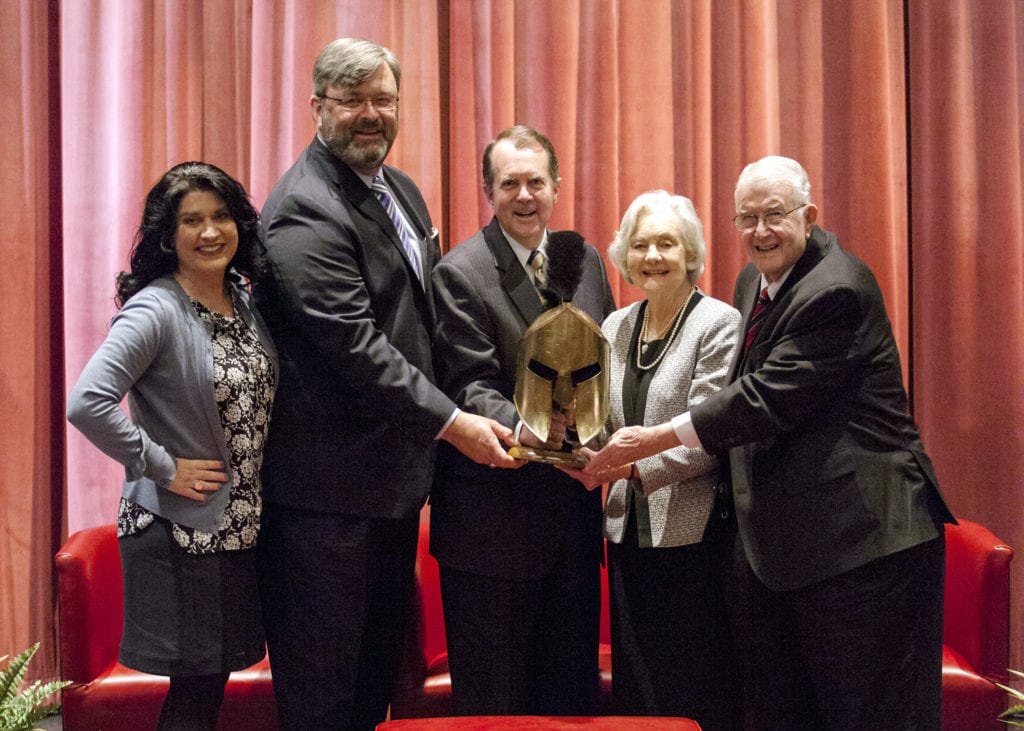 Hannibal-LaGrange University presented their highest honor, the Trojan Lifetime Christian Service Award to Dick and Sherley Bott and Rich Bott of Bott Radio Network on Wednesday, March 14, during a special chapel service.
This is the first award of its kind that HLGU has given, and it carries with it great distinction. The Bible verse selected as a model for the award is Romans 12:11, "Never be lacking in zeal, but keep your spiritual fervor, serving the Lord."
"We were honored to host the Botts on campus and bestow on them our highest award. They truly are an example of 'Knowledge for Service' as they give of their time and talents to spread the Word of God," said Dr. Anthony Allen, HLGU President.
The Trojan Lifetime Christian Service Award is presented to the person who has given their life in service to the Lord. This person distinguishes themselves not only by their service to others, but by their humility, love, and faith, and by using their talents and passions to further the cause of Christ, making them a true example to everyone that knowledge is for service.
"How honored we are to be here, because in so many ways, this is where life starts," said Dick Bott to HLGU students during the chapel service. "I just love to be where the Lord's people are preparing for life."
Dick Bott has had a long and successful career in radio which began when he married his wife Sherley at the age of 19 and went to work selling advertising for the station that his father-in-law owned. Later, Dick and Sherley purchased their own radio station, which played big band music, by selling their home and all its furnishings in order to make a down payment. He put $5,000 down and took on three mortgages in order to purchase a station in California for $250,000. In 3 ½ years, it was fully paid off.
Bott knew that he wanted to do something more with his life, and he decided to start a Christian radio station. He began looking for a large market and purchased a station that covered the Kansas City metropolitan area. Then on November 12, 1962, KCCV, Kansas City's Christian Voice, went live, and Bott Radio Network was born.
Today, there are 120 Bott Radio Network stations throughout the country, and internet radio and smart phone apps have made it possible to listen to Bott Radio Network across the world. Multitudes have learned the Bible through the wise teaching of people such as Dr. Chuck Swindoll, Billy Graham, Dr. Adrian Rogers, Dr. Charles Stanley, and more. Dick Bott, with his son Rich Bott, and all the Bott Radio Network Staff, are fulfilling the Great Commission by doing what Jesus said, "Go and make disciples of all the nations, baptizing them in the name of the Father, and of the Son, and of the Holy Spirit, teaching them to observe all things that I have commanded you."
Bott Radio Network stations were recently established at 94.9 in Quincy, IL and 93.3 in Hannibal, MO.
by Rebecca Sneed '12