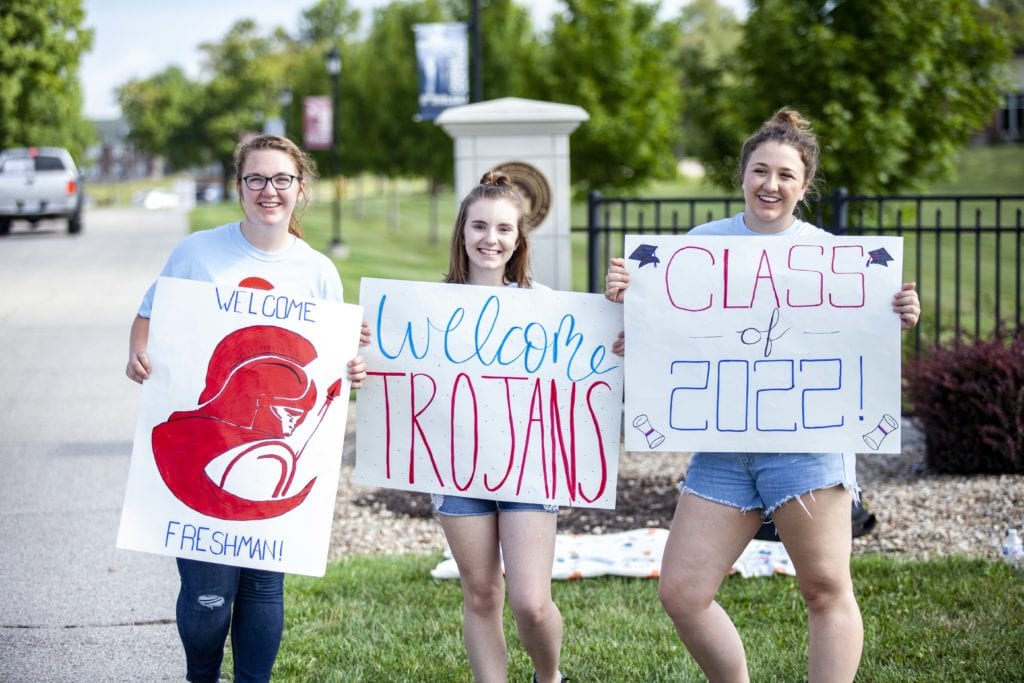 Hannibal-LaGrange University classes kicked off this week on Tuesday, August 21. Just under 1000 students will be enrolled this semester.
Wednesday morning, HLGU President Dr. Anthony Allen welcomed all students back to campus and to HLGU's annual Convocation Chapel, a special chapel event that opens the school year.
"Education is a great equalizer, and knowledge is power. No matter your beginning, you are on the road to making your dreams come true," he said. "Your world is limitless, your course is still unwritten, and your path is ripe with promise."
Dr. Allen continued, "You're getting ready to embark on one of the greatest adventures of your life. I call this the academic adventure. No one knows for certain what the future holds, but take heart, God knows your future…Make the most of every opportunity God has given you and he will direct your path."
Also during Convocation Chapel, Dr. Miles Mullin II, vice president for academic administration, led the students in reciting HLGU's Honor Code, and Mr. Ben Kendall led the congregation in the hymn, "Holy, Holy, Holy."
Those passing by HLGU on Thursday, August 16 likely witnessed the arrival of new students who were warmly greeted by Dr. Allen as they drove in the main entrance. From there, the new students were led to their residence halls where they were welcomed with music, cheers, and eager returning students – the Trojan Army – ready to serve the new students and their parents by unloading their cars and moving the students into their new homes.
The Trojan Army is an annual move-in tradition at HLGU and is always a tremendous blessing to new students and their parents. Their motto, "we move so you don't have to," fits their service well.
Once settled into their dorm rooms, the new students and parents had free time to explore the campus and finish up any last minute paperwork. Mid-afternoon, the new HLGU students gathered in the Mabee Sports Complex where they met with their new student orientation team leaders and played icebreaker games in an effort to meet new friends and bond with their team.
While the new students met in the Mabee Sports Complex, parents were gathered in the Roland Fine Arts Center where they heard from the administration. A Q&A session took place to answer questions parents had on their minds.
At 5:00 pm, parents, family, the Trojan Army, and resident advisors, along with faculty and staff of HLGU, lined the sidewalk from the Roland Fine Arts Center to the HLGU arch in preparation for the Walk of Honor.
A bagpiper led the new students along the path of cheering spectators, encouraging the students on their new journey. After each new student passed through the HLGU arch, President Allen welcomed them again with a handshake and a smile.
Students then gathered around the Trinity Tree, located between the L.A. Foster Student Center and the Burt Administration Building, for a final word of encouragement, the alma mater, and a prayer of dedication.
On Friday, the new students spent a fun morning and afternoon continuing to get to know one another and start developing bonds of friendship while playing laid-back games of basketball, walleyball, and indoor soccer, and then yard games like corn hole, hacky sack, and Frisbee, pausing the games occasionally for everyone to tell a fun fact about themselves.
The NSO teams ventured to downtown Hannibal on Saturday for the annual scavenger hunt. This fun activity takes place on and around Main Street every year, giving new students the chance to learn about all that Hannibal has to offer.
Saturday also held a couple new and exciting events. All of the new students were divided up into small groups and hosted for dinner at the homes of HLGU faculty and staff, giving the students a glimpse of the strong bond of family and community they can receive at HLGU. The evening culminated on campus with a fun variety show. Each NSO team performed on stage using the various talents of the new students and their team leaders.
On Sunday, the students started their day by choosing an area worship service to attend. That afternoon students enjoyed visiting the HLGU Activities Fair. This special event allowed the new students to find out more about area churches, activities, and clubs they could choose to become involved with on and around campus.
Additional activities held to welcome students back to campus include dorm parties, a s'mores night, a concert featuring the Gray Havens, a large game of capture the flag, and sand volleyball games.
by Rebecca Sneed '12