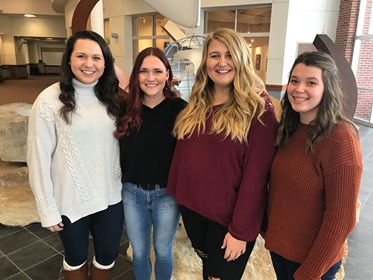 Communication studies students at Hannibal-LaGrange University who cover the news for their campus TV station, are now making headlines of their own.
Four students from HLGU are preparing to compete in the 24-hour news competition sponsored by the National Religious Broadcasters or the NRB. The group from HLGU have already won five national awards from the NRB, including first place in TV newscast and first place in TV news story. The HLGU students will accept those awards on February 26 in Nashville.
While in Nashville, HLGU students will also compete against 150 other college students from all around the US during the 24-hour news challenge. During the competition, students will write, shoot, and edit a television news segment all on their own without any help from their faculty sponsor. In 2018, students from HLGU placed 4th in this national news competition.
"This trip will allow our students to practice their journalism skills in a real world situation. It really is an incredible opportunity for our students," said Christy Jung, assistant professor of communication studies at HLGU.
HLGU student, Emma Anderson was one of the students who participated in the contest in 2018. She will return to Nashville for the 2020 competition. Joining Anderson are three additional students, Kelsey McCaughey, Kamey Tyler, and Alex Bradley.
"Participating in the 24-hour news challenge is a perfect way to put everything we've learned in the classroom into action. It provides a special opportunity to get real world experience in a fun, competitive atmosphere," said Anderson.
"Our students are so excited to compete in Nashville," Jung added. "Our program provides lots of hands-on learning so our students are prepared and ready to compete. Our students are committed to telling stories with integrity and professionalism."
If you would like to help make a donation to offset the cost of this trip, you can give online at hlg.edu/giving or by calling the HLGU Institutional Advancement office at 573-629-3124. Be sure to indicate that your donation is for the student NRB trip to Nashville.