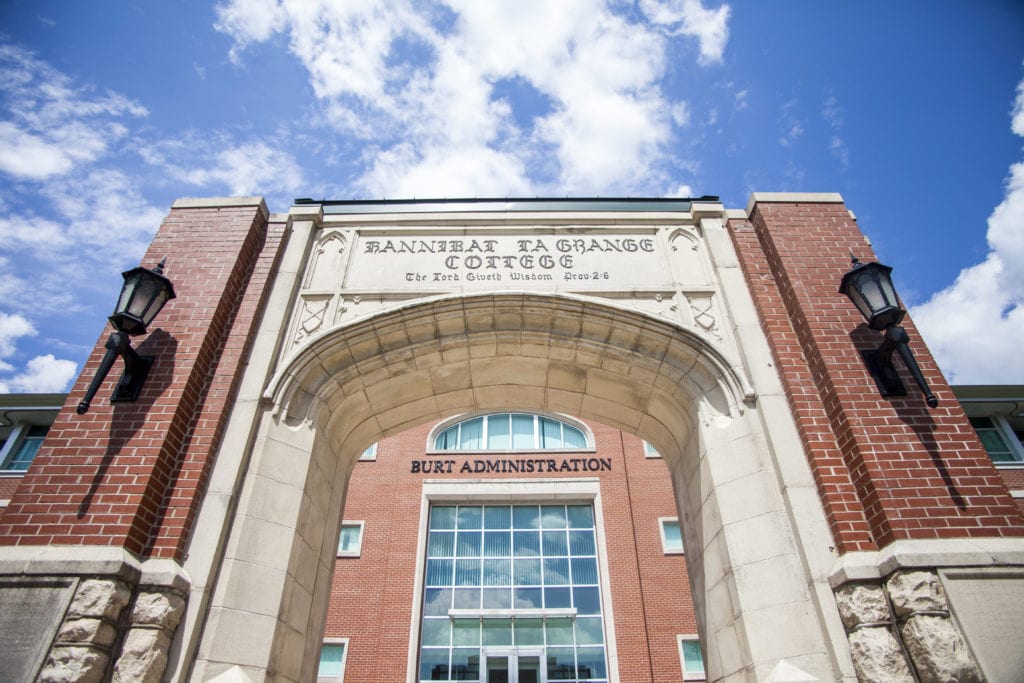 Communication to Students, Faculty, and Staff at Hannibal-LaGrange University-
Two weeks ago, many of us were thinking, "finally spring break has arrived." Sure we knew about COVID-19, but while there were concerns, nothing could have prepared us for what unfolded over the next few days. Our plans were to travel to Israel with a tour group over Spring Break. Our tour group was the last group to enter Israel and the second to the last from our hotel to travel back to the U.S. A couple of hours difference in our schedule would have prevented us from returning home. What a relief to finally make it home!
We now are having to get used to a new normal. Who would have thought that the best commodity to invest in would be toilet paper? Right?
With increasing uncertainty in our world it is easy to be discouraged, dismayed, and feel helpless, anxious, and fearful. No one can know what tomorrow will bring. I reminded at the admonition we find in Philippians 4:6, "Don't worry about anything; instead, pray about everything. Tell God what you need, and thank him for all he has done." In times like these let's remember that the best thing we can do in times of crisis is to be prayerful and thankful. When we are tempted to ask, "Where is God in all of this?" let's remember some important things about the character and nature of God.
God is in control. We can confidently know that God is working in every circumstance to bring good in our lives. Romans 8:28 declares, "And we know that God causes everything to work together for the good of those who love God and are called according to his purpose for them." Notice that the text doesn't say all things are good, but everything that comes in our lives can be used by God to bring about good. We do not yet know all of the good that will come from this pandemic. People's lives are going to be transformed by the power of the gospel, people will move, get new jobs, make new friends, and start new relationships. We must remember that even in these times of crisis, God is at work.
God is working all things for our good — every challenge is an opportunity to grow in faith. Over years I have noticed that that God uses adversity to help us grow in our faith. Our struggles can be the crucible that God uses to help us move forward in faith. Here are a few examples: John Bunyan wrote his most famous work Pilgrim's Progress while in prison from the monarchy for public proclamation of faith. Martin Luther translated the New Testament while imprisoned for his own safety. With eleven months on his hands and nothing to do, Luther studied and wrote prodigiously. He completed a translation of the New Testament from the original Greek in a mere four months between November of 1521 and March of 1522. Martin Luther King, Jr. wrote "Letters from a Birmingham Jail" while serving a nine-day imprisonment in 1963. He was jailed for organizing a protest against racial segregation in Alabama. The essay came out in response to a group of clergymen who published a paper denouncing his methods. It became one of the pillar texts of the civil rights movement. God is always at work through every circumstance of life. Just maybe God is going to do something amazing in each of our lives.
We know that these troubles are nothing compared to eternity. Jesus spent a good part of his ministry trying to help people think more about eternity. In Mark 8:32, Jesus began to share with his disciples that he would suffer and die. "Then Jesus began to tell them that the Son of Man must suffer many terrible things and be rejected by the elders, the leading priests, and the teachers of religious law. He would be killed, but three days later he would rise from the dead. As he talked about this openly with his disciples, Peter took him aside and began to reprimand him for saying such things. Jesus turned around and looked at his disciples, then reprimanded Peter. 'Get away from me, Satan!' he said. 'You are seeing things merely from a human point of view, not from God's.' Then, calling the crowd to join his disciples, he said, 'If any of you wants to be my follower, you must give up your own way, take up your cross, and follow me. If you try to hang on to your life, you will lose it. But if you give up your life for my sake and for the sake of the Good News, you will save it. And what do you benefit if you gain the whole world but lose your own soul? Is anything worth more than your soul? If anyone is ashamed of me and my message in these adulterous and sinful days, the Son of Man will be ashamed of that person when he returns in the glory of his Father with the holy angels.'"
Jesus confronted His disciples with the fact that nothing is more valuable and important that a person's soul. In times of uncertainty and depressing headlines, good news is very welcome. The good news of the gospel is that Jesus Christ has died to pay the penalty for our sin so that we might become the children of God through faith alone in Christ alone. It is times like these when faced with uncertainty, fear, and loss of life that we should focus on the Good News of the Gospel.
Anthony W. Allen
President, Hannibal-LaGrange University