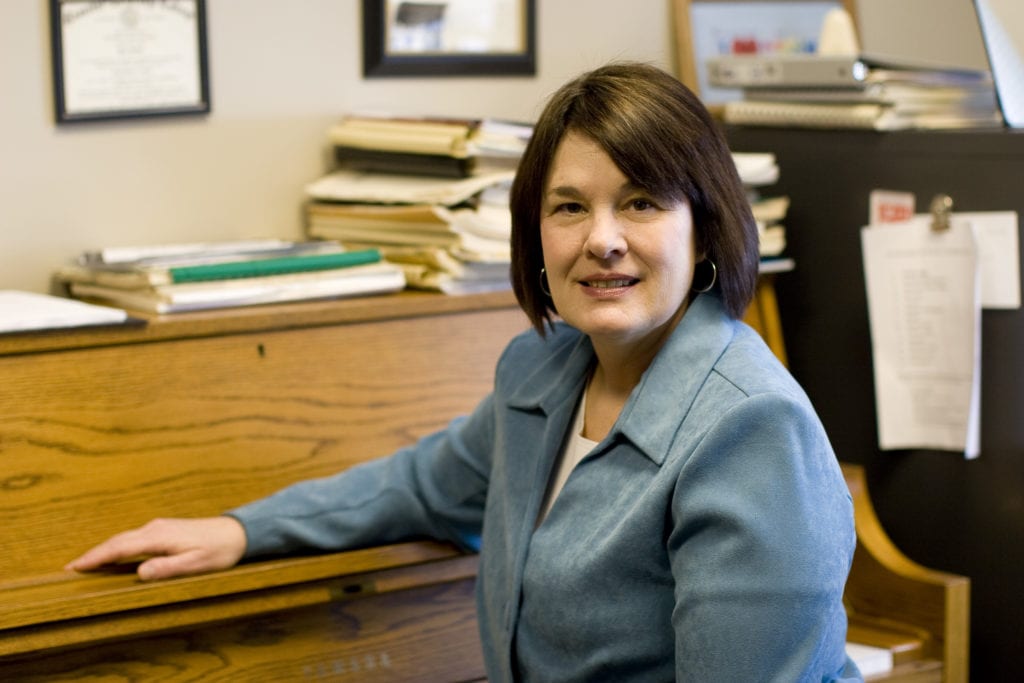 After celebrating her 33rd year of service to Hannibal-LaGrange University, Mrs. Jane Griffen, assistant professor of music, will be retiring from full time teaching at the end of the academic year. She will be staying on in a part-time capacity in the music department to help transition new faculty. In addition to serving as an instructor for over thirty years, Mrs. Griffen has also served as the chair of the music department, and for the past three years as chair of the fine arts division.
"Mrs. Griffin has served HLGU for 33 years," says HLGU President Dr. Anthony Allen. "Her contribution has been monumental for our music program. She is greatly loved by students, faculty, and staff. We appreciate her continued help on a part-time basis!"
Gifted by the Lord with a beautiful soprano voice, she has put that gift to good use both in her personal performances and in mentoring others, encouraging and challenging them to reach their full potential. She has served both school and community well.
Mrs. Griffen holds a bachelor of music degree with teaching certification from Culver-Stockton College and a Master's in Education from the University of Missouri – Columbia. Mrs. Griffen has been teaching at Hannibal-LaGrange University since 1987.
Her responsibilities have included chairmanship duties, teaching applied voice and piano, advanced choral conducting, choral techniques, choral and instrumental literature, and music pedagogy.
In addition to directing HLGU's Concert Choir, Chamber Choir and string orchestras, Mrs. Griffen has also been the director of the Hannibal Children's Choir for four years and vocal director and vocal mentor for many of the University's theatre productions and musicals. She has also directed several of HLGU's performance groups including Praise Song and Covenant.
Mrs. Griffen and students performed with the Muddy River Opera Co. in Aaron Copland's The Tenderland and Poulanc's Dialogues of the Carmelites. She has enjoyed adjudicating for high school district vocal competitions both in Missouri and Illinois, being a guest conductor for all-conference choirs in the state of Missouri and Illinois, and for ten years directing the Mark Twain Chorale.
Mrs. Griffen enjoys horses, dogs, walking, taking in nature, riding bikes, and watching her children and grandchildren grow into wonderful individuals.
"Jane Griffen influenced me so much during my college career," says HLGU alum Kailea Griffen. "Her passion for teaching music fueled mine even when I felt burnt out after a stressful jury or a music theory test. She is someone that I trust with issues inside and outside of the classroom. Her door was always open for anyone who needed help or just someone to talk to! She made my time at HLGU so memorable whether it was making the most beautiful music in chamber choir or playing pranks on the other music professors! Her instruction helped me become the choir teacher I am today and I am so thankful to have had the honor to be her student!"