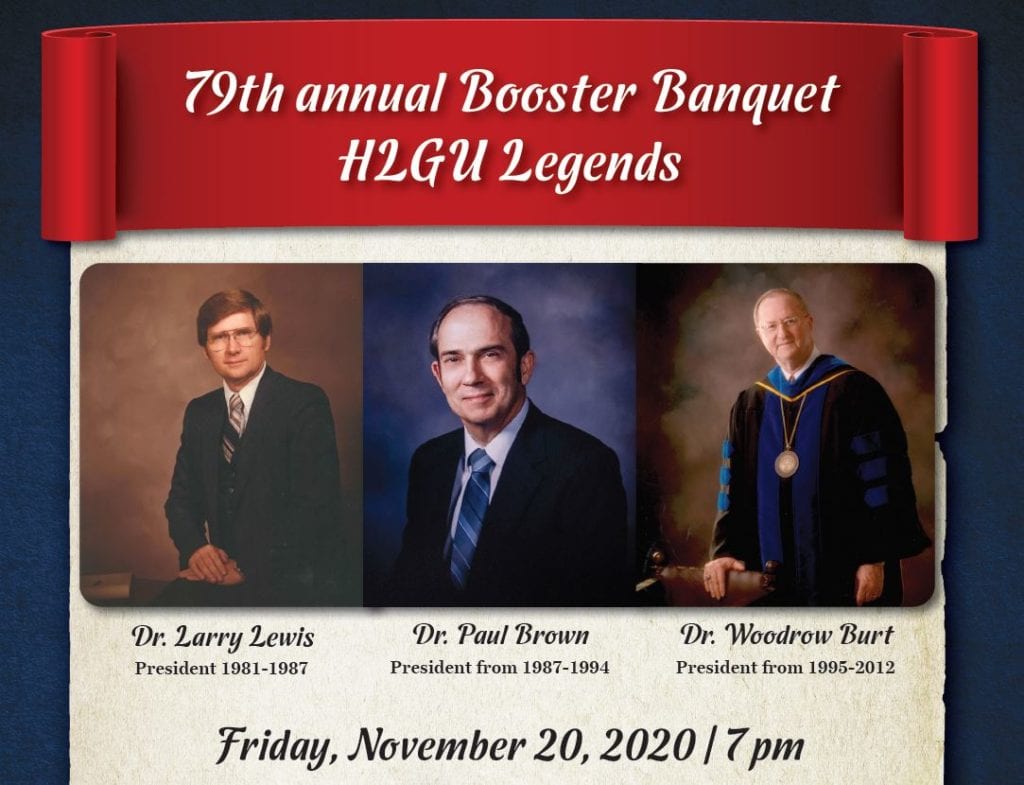 Hannibal-LaGrange University announced HLGU Legends Dr. Larry Lewis, Dr. Paul Brown, and Dr. Woodrow Burt as the keynote speakers for the 79th Annual Booster Banquet. The banquet will be held Friday, November 20, at 7 pm. Tickets for the banquet will be available for purchase on September 1.
Dr. Larry Lewis served as HLGU president from 1981-1987. He helped the institution transition from a predominantly two-year institution to a four-year institution.  Dr. Paul Brown was president from 1987-1994 and led HLGU through the 1989 fire. Dr. Woodrow Burt served as president from 1995-2012. His presidency included great growth in enrollment and new buildings like the Roland Fine Arts Center and Roland Library.
These men helped shape and move Hannibal-LaGrange University through tough obstacles and growth.  This Booster Banquet will celebrate all that the Lord has brought HLGU through.
The evening will be hosted by current HLGU president Dr. Anthony Allen and will be a time of reminiscing, sharing, and looking ahead. God used these HLGU legends to further the mission and reach of Hannibal-LaGrange. Join them for a very special evening celebrating the legends and the University as a whole.
For more information about the 2020 Booster Banquet, please contact Lauren Youse '05 M '16, director of alumni services and development, at 573.629.3126, or via email at lauren.youse@hlg.edu.