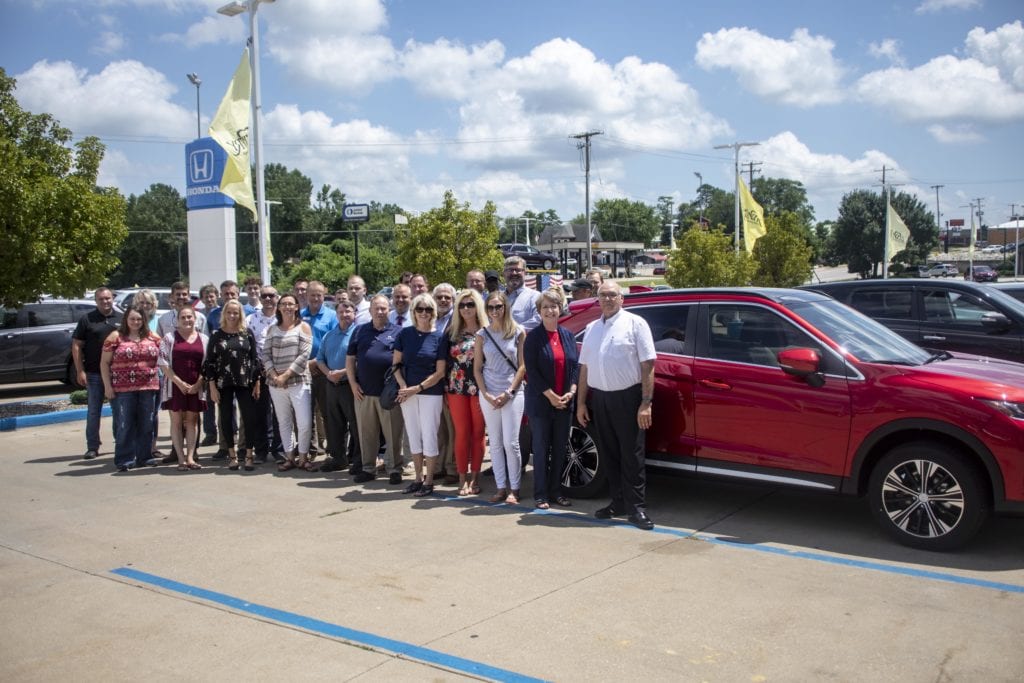 Hannibal-LaGrange University received a donation of a 2019 Mitsubishi Eclipse Cross from Kunes Country Honda of Quincy, on Friday, July 17, at its dealership.
This blessing was in response to a letter sent by HLGU officials, requesting a donation, and citing their shared Christian values.
"We said we had a need and he called me up and said, 'Ray I got your request, I prayed about it and God told me to give you a car,'" said Dr. Ray Carty, HLGU vice president for institutional advancement.
The donation came at a fitting time, as some of the University's older vehicles needed replaced. HLGU is planning to utilize the vehicle for student recruitment related travel.
"It's a secure (vehicle) for our coaches because they travel a lot," said Dr. Carty. "(On Friday), we had one of our coaches in Springfield, MO. We will go as far as Colorado to watch games and this will give them security, rather than a car with 184,000 miles on it that we have in our fleet now."
While the Quincy-based dealership has never donated a car in this area, the owner of Kunes Country Honda felt that donating the vehicle to HLGU was the right thing to do.
"We acted on it and got money out of our foundation that we purchased the vehicle with to support our little community and a Christian-based organization, which is what we believe in," said Jason Buxman, general manager of Kunes Country Honda. "That's how it all came about and we couldn't be happier to donate the vehicle and give back to the community."
The donation is not the first connection between HLGU and Kunes Country Honda. Two HLGU graduates are now working with their dealerships, one as a store pastor and the other as a sales manager.
"We, at Kunes Country Auto Group have a motto of faith, family, and giving back. We try to live out these words and actions every day," said Buxman. "The Kunes Family Foundation is proud to help out with the request from the staff at HLGU and provide transportation for the University's missions and future endeavors."
For more information on how to support Hannibal-LaGrange University, contact Dr. Ray Carty at 573-629-3124, or visit HLGU's donation page at hlg.edu/giving.
by Alex Shipley