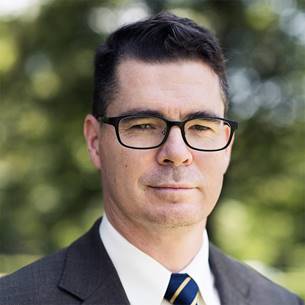 Hannibal-LaGrange University will host a special virtual lecture and Q&A session on September 17, at 7 pm, to celebrate Constitution Day. This special event is free, viewable to the public, and will be live streamed on the HLGU Facebook page. 
The event will feature speaker Dr. John Wilsey, who will address the important contribution of religion in bolstering democracy and liberty in America.
 Dr. Wilsey is an associate professor of church history and philosophy at The Southern Theological Baptist Seminary in Louisville, Kentucky, where he's been teaching since 2018. 
Prior to earning his PhD at Southeastern in 2010, he taught elementary, middle, and high school students in history and Bible for nearly twenty years. He also has experience working in youth and adult discipleship through his eight years of pastoring a Baptist church in Charlottesville, Virginia. For a period of time, he also taught at Southwestern Seminary alongside Dr. Miles Mullin, professor of Christian studies and church history at HLGU. 
Additionally, he was the 2017-2018 William E. Simon Vising Fellow in Religion and Public Life with the James Madison Program in American Ideals and Institutions at Princeton University, where he conducted research for his forthcoming religious biography of Dwight D. Eisenhower's secretary of state, John Foster Dulles. That book will be released under the title God's Cold Warrior: The Life and Faith of John Foster Dulles by Eerdmans on February 9. 
Wilsey also edited an abridged edition of Alexis de Tocqueville's Democracy in America for Lexham Press in 2016 and is the author of One Nation Under God: An Evangelical Critique of Christian America and American Exceptionalism and Civil Religion: Reassessing the History of an Idea, published in 2011. 
He and his wife, Mandy, have been married for 23 years and together they have two daughters. 
The event is held in-partnership with the Moorman Foundation and co-sponsored by HLGU's Business Department and the Center for Christian Worldview. 
For more information on this event, contact the HLGU Academic Administration Office at 573.629.3092.
By Alex Shipley