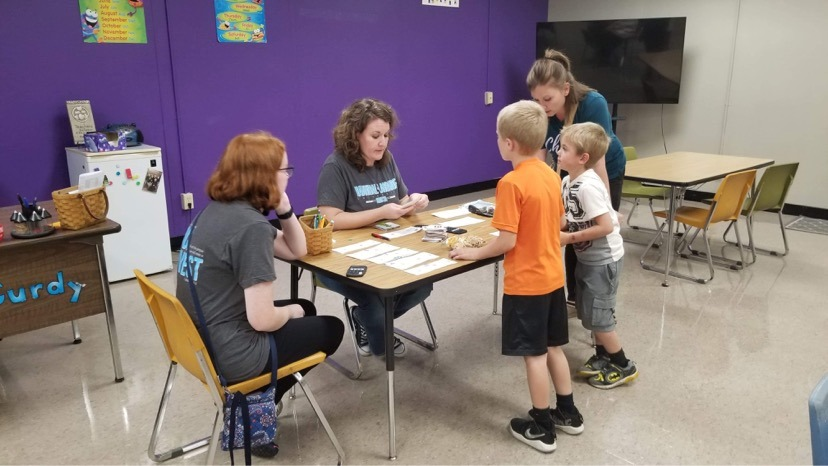 The Great Reading Race, a parent/child event developed by Christian Hawk, a senior HLGU elementary education major, was held at Van-Far Elementary School, October 8 from 5 pm to 7:30 pm. The event was SMSTA's (Student Missouri State Teacher's Association) service project to support Hawk. 
Hawk said the idea for the event was inspired from The Math Race event Stowell Elementary puts on annually. The Great Reading Race featured a scavenger hunt/race which parents were able to complete with their children. At the event, there were ten stations each family had to finish in order to receive the next clue, allowing them to move on to the next station. 
Additionally, each station featured different activities which included various literary skills such as eight rules of grammar, using a dictionary, prefixes and suffixes, rhyming, reading and comprehension, word problems, word families, reading recipes, root words/word endings, antonyms and synonyms, and more. Due to the event being schoolwide, each table featured something for every grade level. Furthermore, stations and activities were Dr. Seuss themed. 
"The great thing about this event is that parents got to work with their child(ren) in learning skills and ways to apply the skills that benefit them both at home and at school," Hawk said. 
Hawk also noted the importance of reading in a child's everyday life but said that many parents aren't always equipped to help their children develop these literary skills. 
"Reading is a skill that students will use every single day for the rest of their lives. Parents are busy, and with COVID, I feel as though reading levels have really declined, and once students get behind, it is hard to bridge that gap. Reading to your child every day is so important, but so are the skills that come along with it. Parents, most of the time, don't know what those skills are or how to teach them to their kids," Hawk said. "This event helped shed light on the basic skills that parents forget about or don't know about and offered many fun ways to help their kids read. Reading is the key to a successful future." 
Hawk said her favorite part of the event was watching the parents and children working together to complete the activities. 
"I love watching kids learn and show their parents what they know. Every station was completely different than the last, so I feel like the students really enjoyed the anticipation of not knowing what they had to do next. It also helped that it was a competition. The family that completed the race the fastest, won a $25 coupon to the book fair," she said. 
Nine families signed up and attended the event. This was Van-Far's first event which required parents to preregister. Hawk is hoping to have the event again next year and is anticipating an even larger crowd.
By Alex Shipley