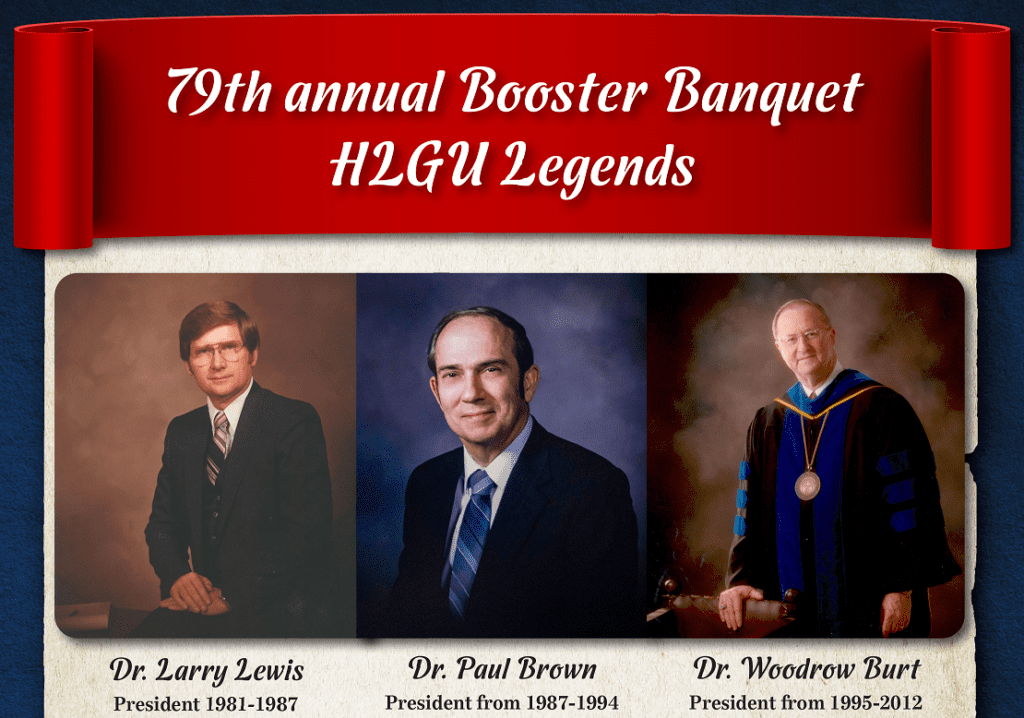 Ticket prices will soon be increasing for Hannibal-LaGrange University's 79th Annual Booster Banquet which will feature HLGU Legends Dr. Lewis, Dr. Brown, and Dr. Burt as the keynote speakers. The banquet will be held Friday, November 20, at 6:30 pm.
Tickets may be ordered online at hlg.edu/boosterbanquet, or by calling 573.629.3124. Tickets are $35 each through Sunday, November 8. Tickets increase to $50 on Monday, November 9. Tickets are considered a donation and are therefore nonrefundable. In the unlikely circumstance that HLGU cancels the event, ticket holders will be contacted with options for the 2021 Booster Banquet.
Dr. Larry Lewis served as HLGU president from 1981-1987. He helped the institution transition from a predominantly two-year institution to a four-year institution.  Dr. Paul Brown was president from 1987-1994 and led HLGU through the 1989 fire. Dr. Woodrow Burt served as president from 1995-2012. His presidency included great growth in enrollment and new buildings like the Roland Fine Arts Center and Roland Library.
The evening will be hosted by current HLGU president Dr. Anthony Allen and will be a time of reminiscing, sharing, and looking ahead. God used these HLGU legends to further the mission and reach of Hannibal-LaGrange. Join them for a very special evening celebrating the legends and the University as a whole.
Safety is very important. Therefore, social distancing measures will be in place. Hands-free temperature checks will be in place for all entering the Mabee Sports Complex. Tables will be set for groups of four to six. If tickets are purchased in groups of four or more tickets, seats will be reserved for the party. Face masks are required at all times when attendees aren't seated and eating at their banquet table.
For more information, please contact Lauren Youse '05 M '16, director of alumni services and development, at 573.629.3126, or via email at lauren.youse@hlg.edu.