2022 Booster Gala a huge success for HLGU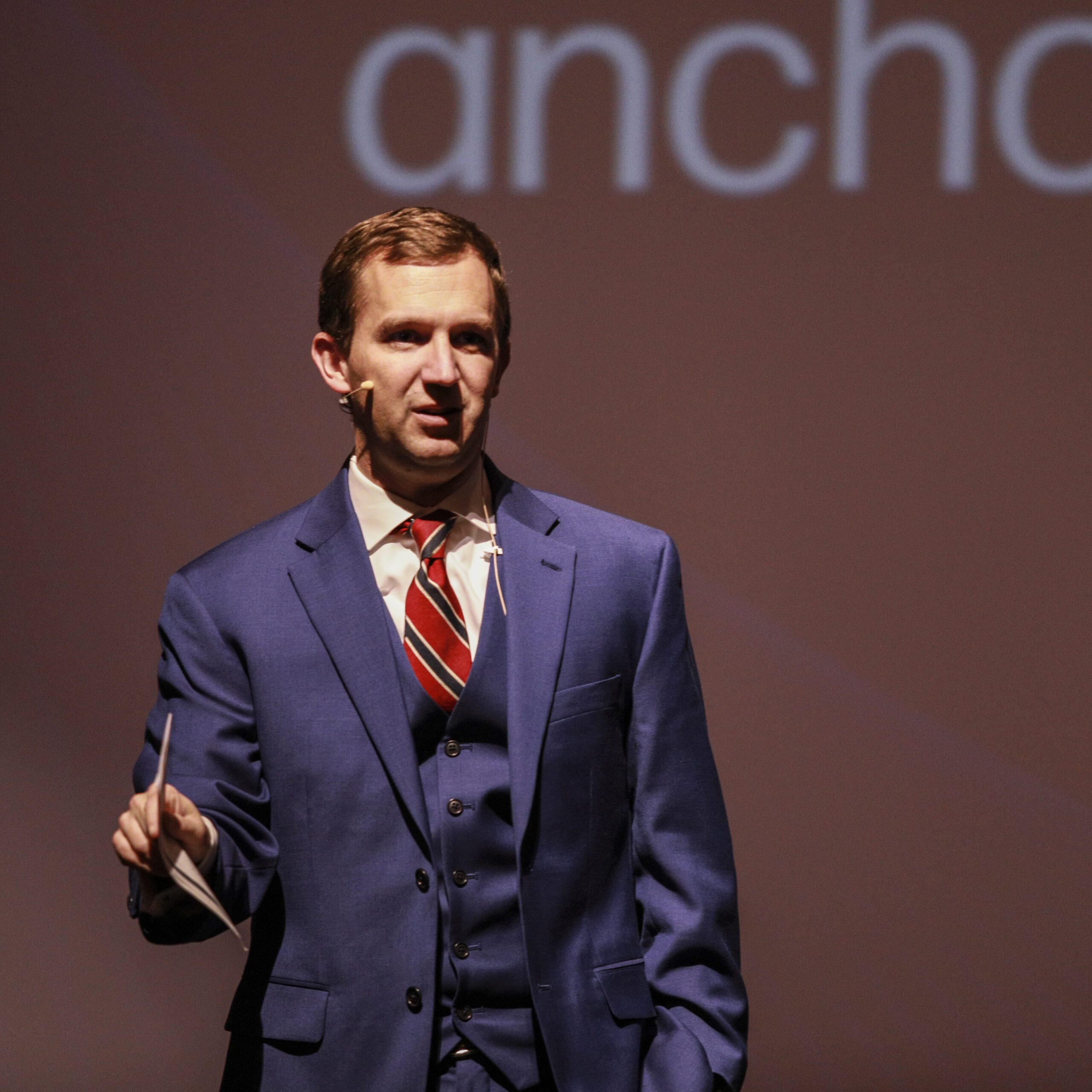 The 2022 Hannibal-LaGrange University Booster Gala featuring new HLGU President Dr. Robert Matz was an incredible success for the University.
The Booster Gala, formally called the HLGU Booster Banquet, capped off a packed Homecoming Weekend at HLGU. Friends of the University and community members enjoyed fellowship and great food in the Roland Fine Arts Center prior to the formal program. Attendees enjoyed live music performed by assistant professor of music and music department chair Ms. Alyssa Pyne throughout the evening.
"Our first Booster Gala was a wonderful success," said Lauren Youse, Director of Alumni Services and Development. "It had a very festive atmosphere and great food. It is a great addition to our Homecoming weekend. I was so pleased to see and visit with so many HLGU alumni and friends. It really felt like a reunion."
After this time of food and fellowship, everyone shifted into the Parker Theatre for the Booster Gala program. Guests were welcomed to the Booster Gala by Vice President for Institutional Advancement Dr. Ray Carty.
"While the journey to complete campus sustainability has not been finished, much has been accomplished in the last few months," Dr. Carty said in his introduction. "We praise God for who He is and we thank Him for what He has done at Hannibal-LaGrange University through you. Many have helped us financially and by volunteering on campus."
Three awards were given out to outstanding HLGU Alumni. The Outstanding Young Alumnus Award was presented to Josh Pierce '12 M '17, the Outstanding Service Award was presented to Jim '76 and Linda '79 Youse, and the Distinguished Alumni Award was presented to Brett R. '92 and Mindy (Stinson) '90 Akright. The audience was treated to a performance by the HLGU Chamber Choir, followed by a keynote presentation by Hannibal-LaGrange University President Dr. Robert Matz.
Dr. Robert J. Matz was voted as the 18th President of Hannibal-LaGrange University on October 14, 2022. Since July 2021, Dr. Matz has served HLGU as Vice President of Academic Administration, Dean of the Faculty, and Professor of Theology and Preaching. Dr. Matz is a graduate of Vanderbilt University with a Bachelor of Engineering (2005). He earned a Master's of Divinity with a concentration in systematic theology from Southwestern Baptist Theological Seminary (2009) and a Ph.D. in theology and apologetics from Liberty University (2015). Dr. Matz is a member of and regular presenter at the Evangelical Theological Society. He was appointed to and served on the Southern Baptist Convention's special task force on evangelism in 2017-2018.
Dr. Matz's message to HLGU on Saturday night was one of encouragement to jump in and support the work that God is doing at HLGU.
"Join in where God is moving," Dr. Matz said. "We each have an opportunity to be a part of what God is doing here at Hannibal-LaGrange University."
Dr. Matz spoke about Hannibal-LaGrange University's commitment to teaching in a biblical worldview.
"Be it in classes on Old and New Testament and biblical worldview, or in every other subject matter that we teach, we hold high the Bible and understand that all truth is God's truth," Dr. Matz said.
As Dr. Matz spoke on the pillars that Hannibal-LaGrange University is built on, he shared five core values integral to the institution. These core values are Biblical Worldview, Educational Relevance, Community Mindset, Transformational Leadership, and Generational Impact.
In his closing remarks, Dr. Matz tied these five core values together and unveiled Hannibal-LaGrange University's new mission statement: "Hannibal-LaGrange University transforms lives and communities through relevant education anchored in a biblical worldview."
The audience listened to a testimony of HLGU Board of Trustees member Dr. Vinita Henry. Dr. Henry shared the impact that HLGU had in her life and the lives of her family members.
"If a student comes to HLGU, they will get a quality education," Dr. Henry said. "Students will leave HLGU with their biblical worldview strengthened, and HLGU will foster Christian service and leadership. I've seen this in my own children and many other graduates from HLGU. Hannibal-LaGrange University creates students who impact others with the love of Jesus."
Dr. Matz shared one last word, encouraging everyone in attendance to support the University.
"I want to encourage you that when you give, you are taking an action that works to transform lives and communities through relevant education anchored in a biblical worldview," Dr. Matz said. "As you give, you have my commitment to you that we will steward your gift well to provide scholarships to our students and to equip the next generation with the relevant education they need to transform lives and communities."
This HLGU Booster Gala was sponsored by HNB Bank. HLGU also would like to thank Fresh Ideas for catering this event.
For more information about HLGU's annual Booster Gala, please contact Lauren Youse, Director of Alumni Services and Development, at 573-629-3126 or via email at lauren.youse@hlg.edu.

Booster Banquet Archives
2009 Bruce Wilkinson
2008 Nazareth
2007 Gloria Gaither
2006 Guy Penrod
2005 Wally Magdangal
2004 Dennis Swanberg
2003 Joe White
2002 Dave Dravecky
2001 Heather Whitestone
2000 Darrell Scott
1999 Dr. Alan Keyes
1998 Ruth Graham McIntyre
1997 Mike Singletary
1996 Cal Thomas
1995 Naomi Judd
1994 Dan Shealy
1993 Mildred McWhorter
1992 Dr. Larry Lewis
1991 Dr. Debbye Turner
1990 Rex & Jennifer Hudler
1989 Tandy Rice
1988 Paul Wrenn
1987 Bill Glass
1986 Zig Ziglar
1985 William J. Murray
1984 Dr. Bertha Holt
1983 Honorable Wilmer "Vinegar Bend" Mizell
1982 Dr. Adrian Rogers
1981 Honorable John Ashcroft, Honorable Max Bacon
1980 Minnie Pearl
1979 Dr. J. D. Grey
1978 Jerry Clower
1977 Dr. A. E. Prince, Dr. L. A. Foster, Dr. Gerald Martin
1976 Dr. Ben Fisher
1975 Tom Lester
1974 Willa Dorsey
1973 Dr. Gerald Martin
1972 Dr. Dick Cole
1971 Dr. Frank Kellog, Harold Dickerson, Wally Jones
1970 Tom Haggai
1969 Paul Harvey
1968 Dr. Earl O. Harding
1967 Dr. Kenneth McFarland
1966 Dr. Wayne Dehoney
1965 Dr. Earl O. Harding
1964 Dr. Merrimon Cuninggim
1963 Dr. J. D. Grey
1962 Dr. Herschel Hobbs
1961 Dr. C. Oscar Johnson
1960 Rev. Charles F. Wellborn
1959 Dr. Sterling L. Price
1958 R. G. LeTourneau
1957 Dr. Porter Routh
1956 Dr. James L. Sullivan
1955 Dr. Earl O. Harding
1954 Dr. C. Oscar Johnson
1953 Dr. Wallace Bassett
1952 Lula (Pulliam) Colwell
1951 Congressman Clarence Cannon
1950 Dr. T. W. Medearis
1949 J. C. Penney
1948 Dr. M. E. Dodd
1947 Dr. C. Oscar Johnson
1946 Congressman Clarence Cannon
1945 Senator Frank P. Briggs
1944 Dr. J. E. Dillard
1943 Dr. Thomas H. Taylor
1942 Dr. C. Oscar Johnson