Amanda St. Juliana, MSN-Ed, RN
Assistant Professor of Nursing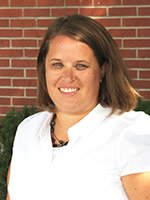 Amanda St. Juliana began teaching as adjunct clinical faculty at HLGU in 2009, and became full time clinical faculty in 2013. During that time she enjoyed spending time with students in the clinical setting to connect ideas that were taught in the classroom. Beginning fall 2015, Mrs. St. Juliana became the skills lab coordinator.
"I enjoy working with students who are learning new skills that will be demonstrated in the clinical setting," she says. "God has blessed me with the opportunity to work at a faith based University."
She has a husband, Nathan, and two daughters, Christine and Audra. She enjoys attending her daughters' volleyball games with her husband in the fall, and in the summer she enjoys spending time at the local swimming pool and being outside with her family. During school breaks, she works as an RN in the emergency department at Hannibal Regional Hospital, where she has been employed since 2005.
Educational Background
Bachelor of Science in Nursing, Culver Stockton College, Blessing-Rieman College of Nursing - 2005
Master of Science in Nursing Education, Western Governors University - 2014
Memberships
MLN - Missouri League for Nurses
ENA - Emergency Nurses Association