Ben Strother
Instructor of Business;
Head Coach, Baseball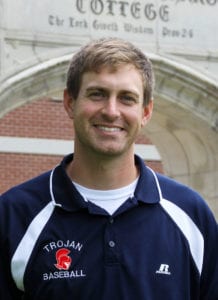 Ben Strother began his career in education as a high school English, history, and personal finance teacher, as well as baseball coach. He joined the HLGU team in 2015 as head baseball coach. Upon completion of his master's degree, Mr. Strother was accepted into a PhD program at Kansas State University where he is currently working toward a doctoral degree from their Institute of Personal Financial Planning.
"I am excited and very blessed to be working to help shape the minds and bodies of college students and athletes in a purposeful Christian Environment," says Mr. Strother.
Mr. Strother love books and learning and enjoys most sports, but especially prefers baseball, ultimate Frisbee, badminton, Frisbee golf, and ping pong. He has been known to cook and bake on special occasions and thoroughly enjoys shooting the breeze over coffee.
Educational Background
Currently pursuing PhD in Personal Financial Planning, Kansas State University, 2014 Cohort
Master of Science in Educational Administration, William Wood University, 2012
Bachelor of Science in Education - Social Studies Emphasis, Hannibal-LaGrange University, 2009
Memberships
Financial Planning Association
American Baseball Coaches Association
Awards & Achievements
Certified Personal Financial Board Colloquium, 2017
Northwest Mutual Best Paper Award in Insurance/Risk Management
Teaching Areas & Research Interests
Lifespan Impact of Relative Income upon Financial Satisfaction
Student Retention
Debt and Student Stress