Eric Turner, PhD
Chair, Division of Christian Studies; Associate Professor of New Testament and Greek; Director of Church and Denominational Relations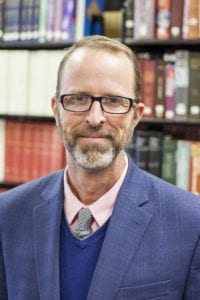 Turner has taught at HLGU since 2014. During that time, he has taught numerous classes including Elementary Greek, Apologetics, Christian Doctrine, Gospels and Acts, Pauline Epistles, General Epistles to Revelation, and the Missionary Methodology of Paul. Turner is also one of our Freshman Seminar instructors where he focuses on assimilating new students both to academic life at HLGU as well as the importance of a Christian worldview.
Outside the classroom, Turner's interests include running, playing guitar, traveling, reading, and spending time with family. He has been married to his wife, Stephanie, for 23 years and together they have four children. He and his family are avid St. Louis Cardinals fans.
"Choosing a university is important because of the reality of the changes you will experience in life as a result of it," says Dr. Turner. "For this reason, the importance of Christian education cannot be overstated. This key element is what you will find at HLGU, a quality Christian education that has the potential, no matter what your field, to significantly impact the nations for the sake of the gospel."
Turner is currently the head of the Passages Israel partnership for HLGU. This program connects Christian university students with a grant program that enables them to travel to Israel at a significantly reduced cost. Passages is sponsored by the Philos Project and the Museum of the Bible Foundation. More information can be found at www.passagesisrael.org
Follow Dr. Turner on social media at the following links:
Facebook
Twitter
Instagram
Personal website
Educational Background
Midwestern Baptist Theological Seminary - PhD in Biblical Studies with a New Testament Emphasis, 2015
Midwestern Baptist Theological Seminary - Master of Divinity, 2008
William Jewell College - Bachelor of Science in Business Administration, 2004
Memberships
Evangelical Theological Society
Passages Israel Faculty
Awards & Achievements
Lifeway Student Pastor of the Year, 2008
Wanda J. Keatly Award, 2008
Publications
Hollow Gods: Idolatry in a Postmodern Context. Eugene, OR: Resource Publications, 2016.
"The Preeminence of Active Metaphors: Functional Linguistics and Earthen Vessels in 2 Corinthians 4:7." Midwestern Journal of Theology 15:2 (2016): 26-50.
"Abiding Beats Busywork." For the Church Blog, March 24, 2016.
"Snapchat Wisdom on College Ministry Do's and Don'ts." For the Church Blog, September 4, 2017.