Laura Davis-Maas, MSN, RN
Associate Professor of Nursing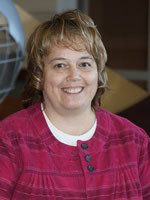 Laura Davis-Maas began teaching at Hannibal LaGrange University in 2013. She comes from Davita Inc dialysis clinics and still continues to work part time. Her medical surgical background is in dialysis, diabetes, and coordination of care. Mrs. Davis-Maas began her teaching career in 1992.
"When I graduate nursing students I take pride in a job well done," she says. "I know that I have inspired them to do something meaningful with their life. My purpose I feel has always been to help others. Through being a nursing instructor I feel that I am able to help a larger population.
"I enjoy working here at HLGU because of the caring Christian atmosphere. At HLGU we have smaller student to instructor ratios which I feel helps the student know that we care about them and their progress."
In her spare time, Mrs. Davis-Maas enjoys mushroom hunting in the spring, and visiting antique stores with her husband.
Educational Background
BSN, Blessing Rieman College of Nursing/Culver Stockton College 1989
MSN, University of Missouri Columbia 1997
DNP, University of Missouri Columbia, In progress
Memberships
Sigma Theta Tau, Alpha Iota and PiPi Chapters
Certified Nurse Educator, 2010
Teaching Areas & Research Interests