Louis Riggs, J.D.
Associate Professor of English; Pre-Law Advisor; Standard Pathway System Coordinator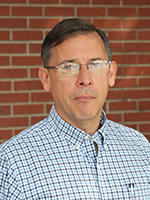 Louis Riggs' academic experiences include teaching English Composition and Argumentation, Writing for criminal justice majors, Business Law to traditional and adult learners, Introduction to Law School, and Organizational Communications as well as the capstone course for HLGU's online Master's in Leadership program. He has also taught History of Leadership as well as U.S. History and Introduction to Political Science.
Mr. Riggs currently serves as president of the board of directors of Missouri Community Betterment, Inc., an organization that serves some 60 rural communities across Missouri to assist them with capacity building and community projects. He is also the founder and executive director of 2500 Miles of Art and Culture, the first organization in Missouri dedicated to blending art and the humanities to provide economic development through a series of place-based creative weeks across the state.
Mr. Riggs says, "In law, I was able to affect one life at a time. As a professor at HLGU, I am able to share God's love and blessings with hundreds of students who are at various stages of their college careers."
Educational Background
J.D., University of Missouri-Columbia, 1990
Further study: University of Missouri-Columbia, M.A. English, M.A. History, and Educational Leadership and Policy Analysis
B.A., English, Westminster College, 1983
Memberships
National Council for Teachers of English
Missouri Travel Council
Missouri Parks and Recreation Association
National Parks and Recreation Association
Northeast Missouri Development Partnership
Awards & Achievements
Vice Chair of the Board of Directors of the Missouri Humanities Council and Co-Chair of the Council's Government Relations Committee
District Chairman of the Mark Twain District, Boy Scouts of America (Marion, Ralls, Monroe, Lewis and Pike Counties)
City of Hannibal representative to the Marion County University of Missouri Extension Board of Directors
Former Chair of the Board of Hannibal Free Clinic, Inc.; currently Chair of Fund Development and member of Board Development Committee
Hannibal Area Chamber of Commerce Ambassador; member of Education and Government Awareness committees; former member of the Board of Directors
Former Board Chair of the Hannibal Nutrition Center
Former Vice Chair of the Board of the Hannibal Main Street Program
Member of National Speakers Association
Multiple winner of People's Choice Award for Hannibal-Courier Post Favorite Newspaper Columnist
Endorsed by Missouri Right to Life, 6th State Representative District, 2002
Eagle Scout
Publications
50th Anniversary History of Missouri Boy's State Program
120th Anniversary History, St. John's Lutheran Church, Hannibal, Missouri
Weekly current events columnist, Hannibal Courier-Post, 1995-2004