Lynn Wilkinson
Director of Student TeachingInstructor of Education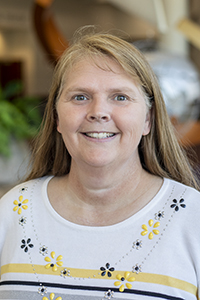 After graduating from Hannibal-LaGrange College in 1993, Lynn Wilkinson's first experience in the early childhood field was in the fall of that same year. Since then, she has taught early childhood special education, kindergarten, title 1 preschool, and second grade. She's also certified in early childhood education, elementary education, and early childhood special education.
"HLGU has a special place in my heart. It was my home away from home when I was a college student. HLGU helped me to grow in Christ and prepared me for an exciting career in teaching," says Wilkinson. "My advice to new students is to study hard, get involved, and continue your walk with Christ. We all have God-given gifts, and HLGU will help prepare us to use those gifts to God's glory."
Wilkinson's favorite way to spend time is with her family. She also enjoys camping, biking, reading, swimming, and traveling. She and her family attend New Hartford Baptist Church where she enjoys teaching children of any age in VBS and Sunday School. She also has a daughter who attends HLGU and a son attending Southwest Baptist University.
Educational Background
M.E.D., University of Missouri-Columbia, 1996
B.S.E., Hannibal-LaGrange College, 1993
Teaching Areas & Research Interests
Early Childhood Education
Elementary Education
Early Childhood Special Education