Martha S. Bergen
Professor of Christian Education Emerita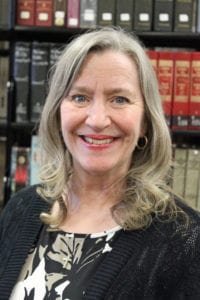 Dr. Martha Bergen, professor of Christian education, is one of the distinguished faculty members in the Christian Studies Division at HLGU. She is a published author, was inducted into the Gardner-Webb University's Gallery of Distinguished Graduates in October 2007, received the Parkway Distinguished Professor Award from HLGU in 2004, elected to Who's Who in American Education in 1995, and that is just the tip of the iceberg.
Bergen's most recent published work is an article in the fall of 2010 issue of Biblical Illustrator called "Purification and Defilement." "The article deals with Jewish practices related to purification," said Bergen, "exploring what we know about Jewish understanding of defilement and what was involved in various rites and procedures of purification."
Bergen received her bachelor's degree from Gardner-Webb University in Boiling Springs, NC, and her M. Div., M.R.E., and Ph.D. from Southwestern Baptist Theological Seminary in Fort Worth, TX. She and her husband, Robert, have been employed at HLGU since 1987. Starting out as adjunct faculty as well as evaluating nursing portfolios while finishing her doctoral dissertation, Bergen has been a full-time professor of Christian education (since 1990), chair of the Christian Studies Division from 1997-2000, and director of ministry guidance since 1991.
"God has given me the wonderful privilege of serving Him at Hannibal-LaGrange College," said Bergen. "Among the things that attract me to Hannibal-LaGrange is her mission and purpose, as well as those who comprise the HLGU 'family.' I am both challenged and blessed by my students and colleagues," continued Bergen. "My husband and I have often commented to one another that while no place is perfect, HLGU comes close to being 'Heaven on earth' for us."
Martha is married to Dr. Robert Bergen, professor of Old Testament and Biblical Languages and associate dean of academic affairs at HLGU. They have one son and currently reside in Hannibal.
Educational Background
Ph.D., Southwestern Baptist Theological Seminary
M.R.E., Southwestern Baptist Theological Seminary
M.Div., Southwestern Baptist Theological Seminary
B.A., Gardner-Webb University
Awards & Achievements
Gallery of Distinguished Graduates, Gardner-Webb University (2007)
Parkway Distinguished Professor Award, Hannibal-LaGrange College (2004)
Elected to Who's Who in American Education (1995)
Elected to Who's Who of American Women (1994)
Elected to Who's Who in the Midwest (1994)
Elected to Outstanding Young Women of America (1983 & 1979)
Publications
"Charles A. Tidwell: Educational Administration for the Church." Christian Education Journal Series (Spring 2004)
"A Christian Education for the Spiritual Growth of Senior Adults" in Practical Theology for Aging (2003)
Ezra-Nehemiah - Shepherd's Notes (1999)
Numerous articles in Biblical Illustrator, Christian Education Journal, and various LifeWay publications