Michelle Todd
Chair, Department of CIS; Assistant Professor of Computer Information Systems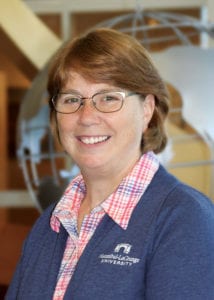 "Each believer has a calling. Mine is in the technology field," said Michelle Todd, computer information systems department chair. "I hope that others can see that God is real in every area of life – especially technology!"
Mrs. Todd came to HLGU in 1999, prior to which she worked in university extension, business, and as a middle and elementary teacher.
Mrs. Todd leads the CIS department, and enjoys interacting with students. Additionally, her responsibilities include serving as business and CIS division chair, and member of the Student Learning Leadership team and the technology committee.
Furthermore, Mrs. Todd developed and leads the HLGU Kids Computer Camps which are held in the summers. She also works closely with ROBOTS projects and has mentored a First Lego League Robots team for 6 years. Mrs. Todd is active in the community through Grace Covenant Baptist Church, Hannibal Schools, 4-H, and as a performing ventriloquist. She and her husband, Chuck, have two young adult daughters.
Educational Background
Currently pursuing Ph.D. in Information Science and Learning Technology, University of Missouri, Columbia
Post Master Certified, General Business, North Central University, 2009
M.A. in Resource and Information Systems Management, Webster University, 1992
B.S.E., Hannibal-LaGrange College, 1981
Memberships
IEEE - Institute of Electrical and Electronics Engineers
ACM - Association for Computing Machinery
Professional Experience
First Robotics Mentor, Trainer and Coach
CompTIA A+ Certification
Cisco Academy Certified Trainer
Cisco Academy A+ Trainer
Hootsuite certified (Social Media)
Research Team – University of Missouri, Columbia
Coding Judging – Software Evaluation