Miles S. Mullin II, PhD
Professor of Christian Studies and Religious History; Director of the Center for Christian Worldview; Honors Program Director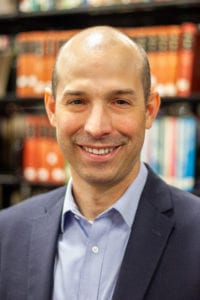 Dr. Mullin has taught at Hannibal-LaGrange University since 2015. After serving as vice president for academic administration and dean of the faculty for nearly 5 years, he chose to return to the classroom full-time, citing his love for students. Prior to coming to HLGU, he served as associate professor of church history for 10 years at the Houston campus of Southwestern Baptist Theological Seminary where he taught undergraduate, master's students, and doctoral students…He also taught in Southwestern's innovative prison program housed at Darrington Prison.
He maintains broad historical and theological interests, but his main area of expertise is American religious history, specifically the interplay between religion and culture. Along those lines, research has focused on evangelical history, while maintaining a strong secondary interest in African American religious history, especially the Civil Rights era.
After spending a decade in Houston (TX), Dr. Mullin appreciates the outdoor beauty that characterizes Missouri and takes every opportunity to hike, kayak, or otherwise be outside. He also enjoys watching college football and basketball, drinking black coffee, listening to an eclectic range of music, and watching a diversity of movies.
"I love the Lord, and I love students," says Dr. Mullin. "It seems natural to end up at Hannibal-LaGrange University with its reputation for providing a high-quality, personal Christian education."
Dr. Mullin and his family moved to Hannibal in 2015. He has been married to Jenny since 1993. Together they have two sons: Darius and Titus. Dr. Mullin is also a three-time fantasy football league champion.
You can follow Dr. Mullin on social media at the links below.
Twitter: @msmullin
Instagram: @msmullin2
Educational Background
Ph.D. Vanderbilt University, Religion, 2009
M.A. Vanderbilt University, Religion, 2006
M.Div. with Biblical Languages, Southeastern Baptist Theological Seminary, 2001
B.A. University of Virginia, Foreign Affairs, 1995
Memberships
American Society of Church History
The Conference on Faith and History
The Evangelical Theological Society
Teaching Areas & Research Interests
History of Religion in the United States of America
Christianity in America
History of Christianity
Early Christian History
Reformation Era History
Historical Theology
Fundamentalism & Evangelicalism
Baptist History & Heritage
African American Religious History
Religion in the Civil Rights Era
Biblical Interpretation
Bible Survey
Publications
Contributor, The Encyclopedia of Christianity in the United States (Rowman & Littlefield, 2016). Articles: Compassion International; James Robinson Graves; Letter from Birmingham Jail; Robert Willard Pierce; New Evangelicalism; World Relief.
"How Texas Became a Conservative Evangelical Powerhouse," Review of Rough Country: How Texas Became America's Most Powerful Bible-Belt State by Robert Wuthnow. Christianity Today Online. March 5, 2015.
"Evangelicalism as Trojan Horse: The Failure of Neo-evangelical Social Theology and the Decline of Denominationalism," Criswell Theological Review 12:1 (Fall 2014): 49-68.
"Shall We Let Them Die? Postwar Evangelicalism and Global Social Ministry: The Early Years of World Relief, 1944-50," Fides et Historia 46:1 (Winter/Spring 2014): 40-57
"Neoevangelicalism and the Problem of Race in Postwar America." Chapter in J. Russell Hawkins and Phillip Luke Sinitiere, eds., Christians and the Color Line: Race and Religion after Divided by Faith. New York: Oxford, 2013.