Rachel Wallace
Assistant Professor of English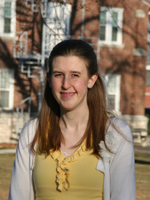 Rachel Wallace is a 2008 graduate of Hannibal-Lagrange University and began teaching full-time at HLGU in 2011, but has been involved with the University in different capacities since 2000. Wallace says that Hannibal-LaGrange University has always had a special impact on her life. The Lord has used HLGU in every stage of her life; it is where she began to walk with the Lord personally, where she met her husband, and where she was encouraged to cultivate the skills important for her life's purpose.
Wallace loves to travel internationally. She has traveled all over the United States, and has been to fourteen foreign countries. Her favorite semester in college was the one she and her husband were able to spend in England.
At HLGU, Wallace serves on the honors committee and the teacher education committee. She also serves the University by editing documents for internal and external use.
Educational Background
M.A. in English, Bowling Green State University
B.S.E in Secondary English, Hannibal-LaGrange University
Memberships
National Council for Teachers of English
Awards & Achievements
Alpha Chi
Phi Lambda Theta
HLGU Honors Program graduate