Scott Hall
Department of Business Chair
Assistant Professor of Business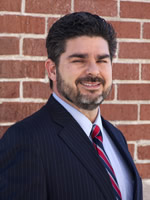 Scott Hall began teaching at HLGU in January 2016 after twenty years in banking, two years as a financial advisor, and eight years in entertainment management.
"I believe that Christian Higher Education is a calling," says Hall. "I'm here to equip my students with the tools necessary to navigate the contemporary business environment as well as provide them with a Biblical model of ethics in business. Hopefully, they'll come out of my classes with a little something extra."
Hall and his wife, Melissa, have two daughters, Madeline and Anna.
Educational Background
Master of Business Administration, Babcock Graduate School of Management, Wake Forest University - 1998
Bachelor of Arts, College of Arts and Science, Vanderbilt University - 1994
Teaching Areas & Research Interests
Business as a vehicle for international ministry
The impact of sustainable marketing practices on business