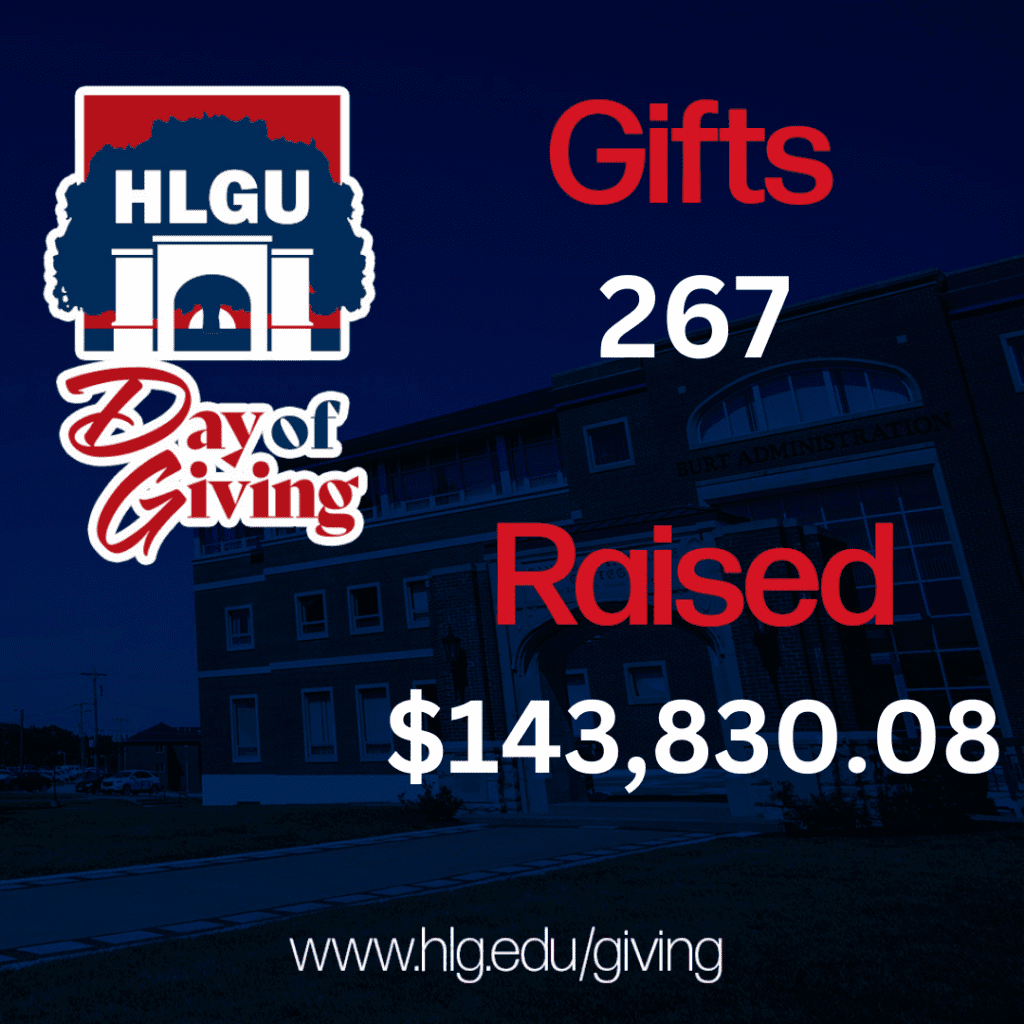 Hannibal-LaGrange University's third annual Day of Giving was a resounding success for the university. The outpouring of support from alumni and friends of the university exceeded expectations, resulting in a remarkable achievement.
The goal for this Day of Giving was to raise 250 total gifts over the 24-hour period between noon on Thursday, April 20 and noon on Friday, April 21. This goal was met by friends of the university as 267 gifts were collected as a part of the Day of Giving. Individual gifts across this time totaled $143,830.08, an incredible number! This is in addition to a $100,000 challenge gift from an anonymous donor, encouraging gifts as a part of Day of Giving.
The overwhelming response from donors demonstrates the unwavering commitment of supporters toward the mission and vision of HLGU. Through the generous contributions of friends from near and far, gifts have directly impacted the lives of HLGU students, empowering them to pursue their educational goals and fulfill their potential.
"Our third annual Day of Giving proved to be another exciting event for HLGU," said Director of Alumni Services and Development Lauren Youse. "The outpouring of love and support for the university through our alumni and friends' generous donations was a huge blessing. I'm so thankful for the donors who value the mission and work of Hannibal-LaGrange University."
Looking ahead, HLGU is excited to announce that the 2024 Day of Giving is already in the works. Mark your calendars for April 11-12, 2024, as the university aims to surpass this year's achievements and continue advancing its mission of providing a relevant biblically-anchored education.
To learn more about how to contribute to HLGU, you can contact the Institutional Advancement Office at 573-629-3124 or email giving@hlg.edu.
Countdown to the 2024 Day of Giving
Frequently Asked Questions
What is HLGU's Day of Giving?
On HLGU's Day of Giving, the Trojan community will come together in support of one goal. On April 11 at Noon until April 12 at Noon, we ask you to join your fellow alumni, students, faculty, staff, and friends by giving back to HLGU and the program that impacted you by going to our secure giving portal. HLGU has set a goal of 250 new gifts to the University in this 24-hour timeframe.
Why should I and others give?
Because your gift benefits current students and gives them the kind of educational opportunities you had. When you give to the area of the University that is most important to you it is an investment in our students' futures and in HLGU's reputation.
On April 11 or 12, visit our secure giving portal to make your gift and be counted on the Day of Giving. You may also make your gift over the phone by calling 573.629.3124.
How can my gift be counted toward the Day of Giving goal?
Make a gift online or by phone between Noon on 4/11 and Noon on 4/12 and your gift will be counted towards our total.
Who can participate in the Day of Giving?
Absolutely anyone can participate! Alumni, students, friends, parents, faculty, and staff are all welcome to consider making a gift. Any and all gifts made to HLGU will be counted.
Can I make my gift to any area?
Yes: 100% of your gift will go to the designation of your choosing. Donors may choose to designate their gift to any program, team, or fund at HLGU that already exists. Just indicate on your giving form where you would like the gift to go.