Join us for Winter Homecoming on Saturday, January 26, 2019!
Hannibal-LaGrange University is proud to announce our annual winter homecoming event to be held Saturday, January 26, in the Mabee Sports Complex.
The day will include a variety of fun activities that allow students and alumni to get involved. The men's basketball alumni game will take place at 11 am and women's alumni basketball game will take place at 10 am. To participate in alumni games, contact women's basketball coach Kelly Quigle at 573-629-3212 or kelly.quigle@hlg.edu, or men's basketball coach Jason Durst at 573-629-3213 or jwdurst@hlg.edu. The day will also include basketball skills contest for all ages and free lunch for alumni and their families from noon to 1 pm. The men's basketball team will be facing Williams Baptist University at 3 pm and the women's team will face this college's team at 1 pm.
For more information on the event, contact Alumni Director Lauren Youse '05 '16, at 573-629-3126 or via email at lauren.youse@hlg.edu.
Hannibal-LaGrange University Alumni Awards – Do you know an HLGU alum that fits the following criteria and needs to be recognized?  Then nominate him or her for an alumni award!
How to nominate:  Send your nominee's name and a brief reason why they deserve the award to Alumni Director Lauren Youse at lauren.youse@hlg.edu or mail it to 2800 Palmyra Road, Hannibal, MO 63401.
Nominations should be made for a certain category of award. However, the selection committee has the right to transfer a nomination to a more appropriate category if deemed fit.  Contact Lauren Youse at (573) 629-3126 if you have any questions.
2018 Alumni Award Winners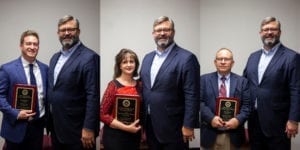 Outstanding Young Alumnus Award – Brad Dempsey '05
Distinguished Alumnus Award – Dr. Sherri Elliott-Thomas '86
Outstanding Service Award – Mark Martin '67
Homecoming Archives