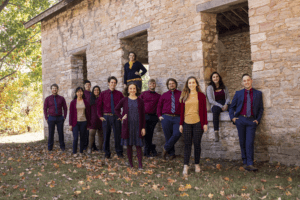 Hannibal-LaGrange University's Chamber Choir is a team of men and women who present sacred a cappella music as a worship ministry. Along with music of various styles, the group also shares testimonies, scripture, and life experiences associated with their music. Chamber Choir performs as a mixed choir. Programs of up to 45 minutes are prepared and can be flexible to fit your service. Chamber Choir travels to churches and events on a love offering basis.
For more information, or to book HLGU's Chamber Choir, please contact Jane Griffen at 573-629-3165 or jgriffen@hlg.edu.
Upcoming Performances
There are no upcoming events at this time.
2020 Chamber Choir Personnel
Kyle Allen
Tenor II
Junior
Louisburg, KS
Bachelor of Music, Worship Major
Sicily Johnston
Alto II
Junior
Jackson, MO
Psychology/Criminal Justice Major
Emily Bonta
Alto I
Junior
Trenton, MO
Secondary Ed/Vocal Music Major
Imsunaro Longchar
Soprano I
Junior
Siliguri, West Bengal, India
Bachelor of Music, Piano Major
Kayla Cunningham
Soprano I
Sophomore
Blue Springs, MO
Secondary Ed/Vocal Music Major
Heidi Novak
Alto
Sophomore
Champaign, IL
Special Education Major
Lucas Burress
Tenor I
Freshman
Blue Springs, MO
Worship Arts, Leadership Major
Rylan Pool
Bass
Sophomore
Des Moines, IA
Biology Major
Harrison Caples
Bass/Baritone
Junior
Des Moines, IA
Christian Studies Major
Brice Sherman
Bass/Baritone
Senior
Kirksville, MO
Bachelor of Music, Voice Major
Kathryn Ewart
Soprano II
Junior
Wayland, MO
Secondary Ed/Vocal Music Major
Dominic Edwards
Tenor I
Sophomore
Troy, MO
Secondary Ed/Vocal Music Major