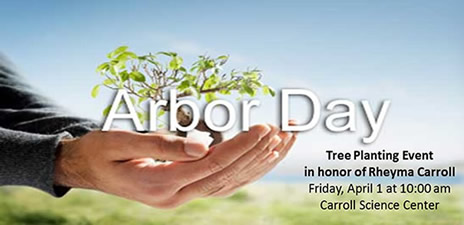 by Rebecca Sneed
Hannibal-LaGrange University will hold an Arbor Day celebration on Friday, April 1 at 10 am in front of the Carroll Science Center to plant a tree and celebrate being named a 2015 Tree Campus USA®.
Tree Campus USA is a national program created in 2008 by the Arbor Day Foundation to honor colleges and universities for effective campus forest management and to engage staff and students in conservation goals. Hannibal-LaGrange University achieved the title by meeting Tree Campus USA's five standards, which include maintaining a tree advisory committee, a campus tree-care plan, dedicated annual expenditures for its campus tree program, an Arbor Day observance and student service-learning project. Currently there are 254 campus across the United States with this recognition.
"Students are eager to volunteer in their communities and become better stewards of the environment," said Matt Harris, chief executive of the Arbor Day Foundation. "Participating in Tree Campus USA sets a fine example for other colleges and universities, while helping to create a healthier planet for us all."
In honor of the late Mrs. Rheyma Carroll, a sugar maple will be planted. Mrs. Carroll was a long-time supporter of HLGU and a donor to HLGU's tree fund. She enjoyed sugar maples and requested one be placed by the science building.
This year's Arbor Day ceremony will also include a reading of an Arbor Day Proclamation. This proclamation will be read every year on Arbor Day as part of HLGU's application to remain a Tree Campus USA. In addition, Dr. Allen, along with Betty Anderson and a representative from the Hannibal Tree Board, will speak at the ceremony.
For more information on the Arbor Day Celebration, or on how to become a supporter of HLGU's tree campaign, contact Betty Anderson at 573-629-3093, or via email at banderson@hlg.edu.