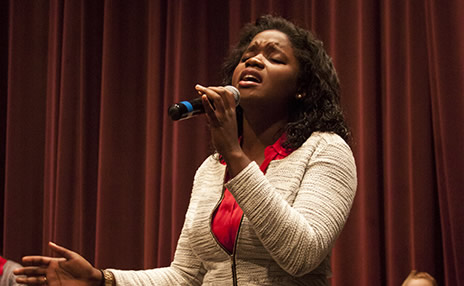 by Amanda Wadkins, Student
Hannibal-LaGrange University will be hosting its annual spring ministry teams concert on Friday, April 15, 2016, at 7:00 pm in the Parker Theatre located within the Roland Fine Arts Center. The various ministry teams will give back with both their talents and a food drive. Admission to the concert is free and open to the public.
The food drive is a competition between the three teams in the weeks leading up to the concert to see which team can raise the most food for the Food Bank for Central and Northeast Missouri. The teams will be collecting food items such as canned foods and dry goods such as cereals, pastas, and rice. The teams will be creating unique structures out of their food items, but there will also be a table for attendees to donate food at if they choose. The total amount of food raised, as well as the winning team, will be announced during the concert.
Hannibal-LaGrange is home to three ministry teams. The New Edition (a traveling repertory troupe specializing in Christian theatre), Chamber Choir (a team of men and women who present sacred a cappella music and songs with acoustic instruments as a worship ministry), and Praise Song (an upbeat vocal and instrumental ensemble). The three ministry teams will be demonstrating their heart for the community through a food drive which will conclude the day of the concert.
Alisha Ramsey, a sophomore from Fort Smith, Arkansas, and member of Praise Song, stated "The concert is a great opportunity for people to learn about the ministry teams at HLGU, their goals and enjoy an evening of worship." While the ministry teams members love to perform, their ultimate goal is to serve others through worship and drama.
The teams share a unified purpose which reflects the motto of HLGU, "Knowledge for Service." In a similar way, the members of the teams use their talents to serve others. Ramsey spoke of her passion to serve when she said, "It's a great experience to do what we love which is to worship God and play music. It makes it even better when you are doing it with people you love."
For more information about this event please contact Amanda Wadkins at 417-893-9949, or via email at amanda.wadkins.12@student.hlg.edu.