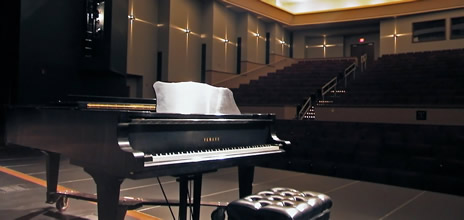 by Rebecca Sneed
Representatives from Hannibal-LaGrange University recently had the distinct pleasure of accepting a grant from the Riedel Foundation. The funds will be used to update stage lighting in HLGU's Roland Fine Arts Center (RFAC).
The grant was accepted by Brad Newbold, campaign director for HLGU's Friends of the Arts program. The Friends of the Arts campaign is dedicated to empowering students to bless the world by showing the love of Christ through the arts, and enabling alumni and friends of the university to partner in this endeavor.
"We are excited and grateful to have a partnership with such a fantastic organization as the Riedel Foundation," said Newbold. "This donation will help Hannibal-LaGrange University, and our fine arts division to continue our pursuit of training world class citizens with state of the art equipment and methodology."
Since its construction in 2003, the RFAC has been available to and used by the community for events such as community concerts, area high school FBLA competitions, band and vocal competitions, and summer camps, as well as HLGU's many events that are open to the public including weekly chapel, music department concerts, ministry team performances, theatre productions, and much more.
"We are pleased to once again partner with the Riedel Foundation on something that not only benefits HLGU, but also benefits Hannibal and its arts community," said Dr. Anthony Allen, HLGU President.
"The Riedel Foundation's generosity will be a blessing to HLGU and the community of Hannibal for years to come," added Newbold.
Currently, the Friends of the Arts campaign is raising money to purchase a new Steinway concert grand piano for the RFAC stage with an ultimate goal of putting a Steinway piano in every music classroom and practice room and becoming an official Steinway School.
For more information about HLGU's Friends of the Arts, contact Brad Newbold at 573-629-3008, or via email at brad.newbold@hlg.edu. Donations can be made online at hlg.edu/about-hlgu/give-to-hlgu/.