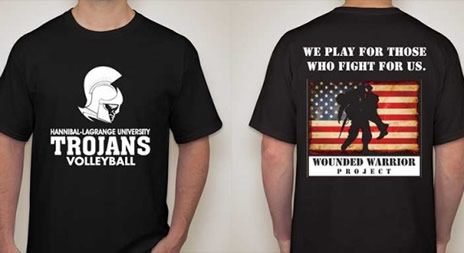 by Rebecca Sneed
The Hannibal-LaGrange University women's volleyball program has elected to host an event to support the Wounded Warrior Project (WWP) during the HLGU Homecoming weekend, Saturday, October 1, when the Trojans will play a game against Central Baptist College at 1 pm.
The volleyball players are currently selling t-shirts that can be purchased here prior to the game. Shirts ordered prior to September 13 will receive free shipping to HLGU. The shirt design can be viewed above.
The Trojans chose the WWP this year because they wanted to support the armed forces. The players have become student ambassadors for the WWP which allows them to hand out pamphlets, stickers, and wristbands supplied by and in support of the WWP whose mission is to honor and empower wounded warriors.
The women's team will also be hosting a bake sale on October 1 to raise additional funds. HLGU will make a presentation about the WWP between the second and third set of the game against CBC.