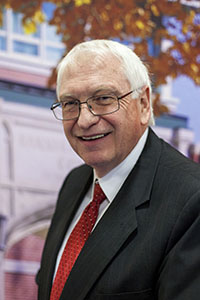 Hannibal-LaGrange University will hold its 2017 commencement ceremony at 10:00 am on Saturday, May 6, in the Mabee Sports Complex.  Approximately 300 graduate candidates are scheduled to receive degrees.
This year's commencement speaker will be Dr. Dwight Blankenship, HLGU Vice Chairman of the Board of Trustees and pastor of Parkway Baptist Church in St. Louis, MO.
Dr. Blankenship also currently serves as chairman of trustees for Midwestern Baptist Theological Seminary in Kansas City, MO. He has also served on the nominating committee and local arrangements committee of the Southern Baptist Convention and Missouri Baptist Convention, and has served in various roles at other Baptist conventions, associations, and universities.
In 1972, Dr. Blankenship received a Bachelor of Science in Education from the University of Missouri. He went on to earn his Master of Divinity from Southwestern Baptist Theological Seminary and become an ordained minister in 1978. He earned his Doctorate of Ministry in 1986.
Dr. Blankenship served as pastor for 21 years in various churches in Texas before being led back home to Missouri to pastor Parkway Baptist Church. Preaching God's Word and pastoring God's people is Dr. Blankenship's greatest joy.
Having a heart for missions, Dr. Blankenship has actively participated in endeavors to East Asia, Ghana, Brazil, Eritrea, Mexico, Poland, China, Thailand, United Kingdom and the United States.
Every year at commencement, the Parkway Distinguished Professor Award, HLGU's highest faculty award, is given by Dr. Blankenship's church, Parkway Baptist Church in St. Louis. This will mark the 28th year for the award. It is presented to an exceptional member of the HLGU Faculty. Selection is based on outstanding professional and personal contributions to Christian education.
by Rebecca Sneed '12