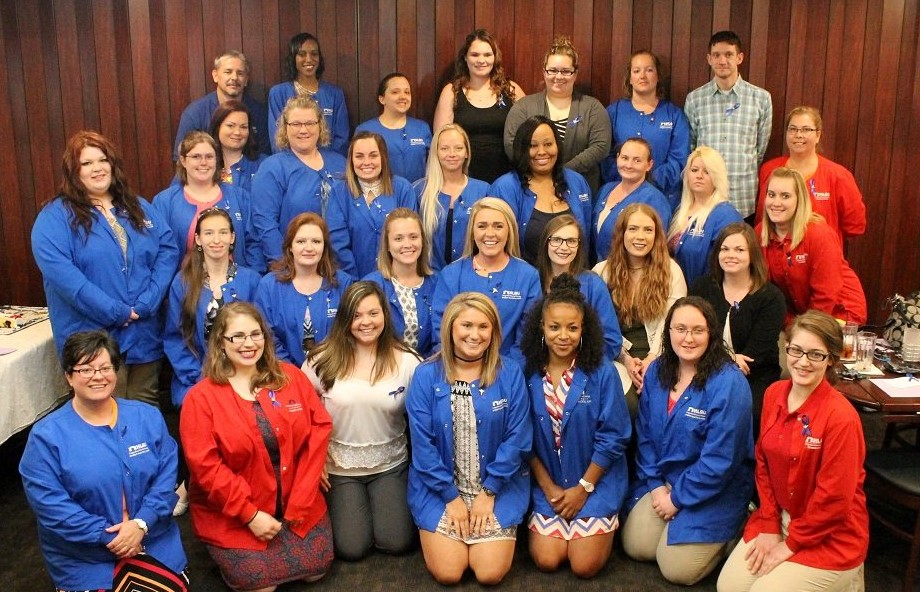 Thirty-two practical nursing students were honored at a luncheon and capping service on Friday, June 2, 2017 at Fiddlestik's Restaurant in Hannibal, MO. Although this represents the fifty-fourth capping ceremony for this practical nursing program, this is the fifth event since the program moved to Hannibal-LaGrange University in August 2012. The nursing program was formerly known as the Hannibal Public School of Practical Nursing and was located at the Hannibal Career and Technical Center. The Hannibal-LaGrange University Practical Nursing Program (HLGU-PN Program) is affiliated with Hannibal Regional Hospital, Maple Lawn Nursing Home, Beth Haven Nursing Home, Hannibal Clinic, Hannibal Regional Medical Group, Mark Twain Behavioral Health, NECAC Family Planning Center, Marion and Ralls County Health Departments, and Hannibal Council on Alcohol and Drug Abuse.
These thirty-two practical nursing students have completed the first forty weeks of the fifty-two week program. They were honored by the following HLGU Craigmiles School of Nursing faculty: Anne Riggs, DNP, RN, Director; Gwenda Pollard, MSN-Ed,  RN-BC, Practical Nursing Coordinator; instructors Karry Young, MSN-Ed, RN; Lynn Ogle, BSN, RN; and Anne Wilson, BSN, RN.
Adjunct instructors for the program include Amanda St. Juliana, MSN-Ed, RN; Laura Maas, MSN, RN; Janet Stuckman, MSN, RN; Kimi Yuchs MA(N), RN and Michelle Wallace, MSN, RN.
Members of the class receiving recognition for their achievements were: Stephanie Barnett, Kayla Crew, Tiffany Hudelson, Hope Jones, Breanne McBride, Ashton Reynolds, Heather Smith, and Tiffany Yakes of Hannibal, MO; Melissa Boernson, Derek Eger, Alishia Harscher, Zakia Lewis, Scott McEntee, Courtney McGlaughlin, Haley Mester, and Lorelei Schlueter of Quincy, IL; Rebekah Calnan, Dannica Damron, and Rhylee Helms of Palmyra, MO; Melissa Corbin of Louisiana, MO; Brittany Dodds and Karissa Williams of Ewing, MO; Jessica Grummel and Destiny LeGrand of Bowling Green, MO; Taylor Jordan and Taylor Neely of Shelbina, MO; Alexis Kendrick, Brittany Barbee, and Michelle Talton of Monroe City, MO; Lacey Kistner of Payson, IL; Angel Morrison of Pittsfield, IL; and Alyssa Starr of LaBelle, MO.
The Hannibal-LaGrange University Practical Nursing Program is a 52 week certificate program starting each year in late August. To apply or obtain more information, please contact Kathryn Martin, nursing admissions coordinator, at 573-629-3141 or via email at Kathryn.Martin@hlg.edu.
Hannibal-LaGrange University is a four-year Christian university fully accredited by the Higher Learning Commission and prides itself in its traditional and nontraditional educational experience in a distinctively Christian environment.