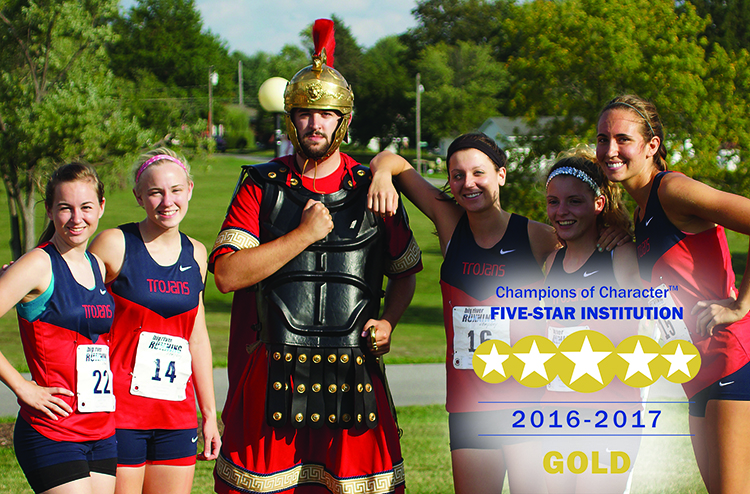 The Hannibal-LaGrange Athletic Department scored a perfect 100 points on their scorecard for the NAIA Five-Star Champions of Character Award.  The Trojans are listed as one of 14 NAIA institutions nationwide that received a perfect score, and are the only one in the American Midwest Conference.  Sixty-Six institutions earned the gold level award attaining a score of 90 or higher and four of those were from the AMC.  This is the first year that HLGU has reached the gold standard since the gold, silver, and bronze levels of the award were established over four years ago.
The NAIA website states, "Institutions are measured on a demonstrated commitment to Champions of Character and earned points in character training, conduct in competition, academic focus, character recognition, and character promotion. Institutions earned points based on exceptional student-athlete grade-point averages and by having minimal to no ejections during competition throughout the course of the academic year."  The five core character values of the NAIA are integrity, respect, responsibility, sportsmanship, and servant leadership.
The Trojans' Champions of Character liaison is Assistant Baseball Coach, Charles Rapp.  He shared, "This achievement is a natural overflow of our Christian emphasis and is something that the whole department came together to accomplish.  Our athletics have always been character driven, and we take pride in standing out amongst our peers."  Athletic Director, Jason Nichols added, "I am proud of our coaches and student-athletes.  They are to be commended on receiving this honor."
One way to earn points for the award is by doing service projects on campus and in the community of Hannibal.  HLGU requests each athletic team to invest in a project of this sort at least once annually.  Some examples of past community service projects can be found online at hlgtrojans.com.  Additional resources on the page include videos created by the HLGU Communication Studies Department about each NAIA core value.