Join us for Booster Banquet with my coach, Steve Spurrier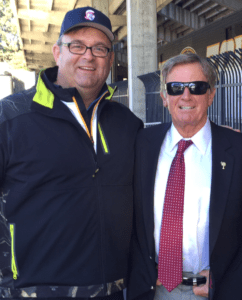 10/27/17 I'm excited for Coach Spurrier to speak at the Booster Banquet because he's a personal friend and because of the impact he's had on my life. One of the things I saw over the years was his commitment to investing spiritually in the young guys. He's one of the greatest coaches to ever coach the game of football. He's also the only person alive to be inducted into the National College Football Hall of Fame as a player (1986) and as a coach (2017)!
I want to encourage you to purchase a ticket to our 76th Annual Booster Banquet with Coach Spurrier.  He'll be engaging. He's a great motivator, a brilliant strategist, and just an all-around great coach.
Steve Spurrier is well known for his lengthy and successful career in football. He served as the head coach for three college and two professional teams and was also an exceptional college football player before spending nearly a decade playing professionally in the NFL.
Ticket prices increase as of October 30 – so do not delay.  You will not be disappointed.