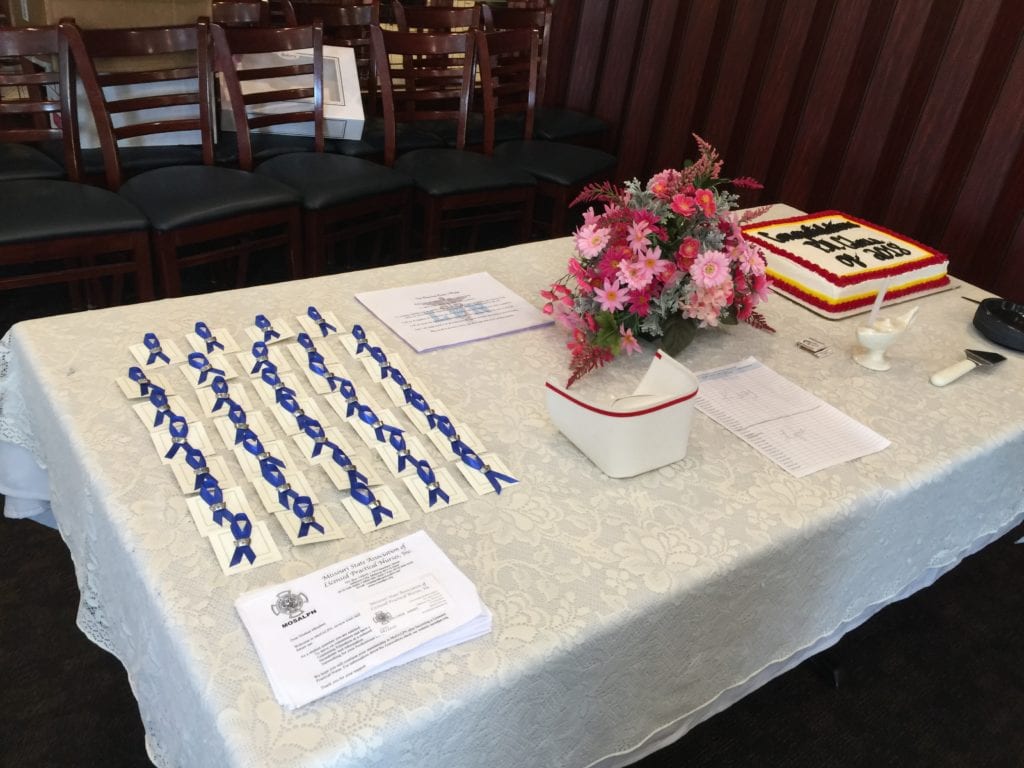 Thirty-three practical nursing students were honored at a luncheon and capping service on Thursday, May 17, 2018 at Fiddlestik's Restaurant in Hannibal, MO.
Although this represents the fifty-fifth capping ceremony for this practical nursing program, this is the sixth event since the program moved to Hannibal-LaGrange University in August 2012. The nursing program was formerly known as the Hannibal Public School of Practical Nursing and was located at the Hannibal Career and Technical Center. The Hannibal-LaGrange University Practical Nursing Program (HLGU-PN Program) is affiliated with Hannibal Regional Hospital, Maple Lawn Nursing Home, Beth Haven Nursing Home, the Hannibal Clinic, Hannibal Regional Medical Group, Mark Twain Behavioral Health, the NECAC Family Planning Center, Marion and Ralls County Health Departments, and Turning Point Recovery Centers.
These thirty-three practical nursing students have completed the first thirty-nine weeks of the fifty-two week program. They were honored by the following HLGU Craigmiles School of Nursing faculty: Gwenda Pollard, MSN-Ed, RN-BC, practical nursing coordinator; instructors Karry Young, MSN-Ed, RN; and Lynn Ogle, BSN, RN.
Adjunct instructors for the program include Denise Crisp, BSN, RN; Laura Maas, MSN, RN; Amanda St. Juliana, MSN-Ed, RN; Janet Stuckman, MSN, RN; Michelle Wallace, MSN, RN; and Anne Wilson, BSN, RN.
Members of the class receiving recognition for their achievements were Belinda Abbey, Sha'Tya Bias, Stacey Buss, EmmaLee Butler, Ashley Evans, Shelby Grimsley, Natalia Johnson, Mariah Liggett, Alyssa Miller, Mariah Milsap, Jami Stupavsky, Kayla Vaughn, Krista White, and Angela Zenk of Quincy, IL; Jazmin Adams and Nicole Woods of Monroe City, MO; Summer Adams, Abigayle Dodd, Kimberly Santos, Danielle Shrum, and Staysha Sydnor of Hannibal, MO; Betsie Betts of Bowling Green, MO; Malik Pulline of St. Louis, MO; Angela Boudreaux and Heather Knobloch of Shelbina, MO; Leslie Carter of LaGrange, MO; Kendra Hays of Vandalia, MO; Shatarria Knight of Beloit, WI; Jamie Overby of Kalamazoo, MI; Tiffany Radcliffe of Franfort, IL; Britney Sidwell of New London, MO; Sarah Spurgeon of Palmyra, MO; and Rebekah Walsh of Pittsfield, IL.
The Hannibal-LaGrange University Practical Nursing Program is a 52-week certificate program starting each year in late August. To apply or obtain more information, please contact Kathryn Martin, nursing admissions coordinator, at 573-629-3141, or kathryn.martin@hlg.edu.