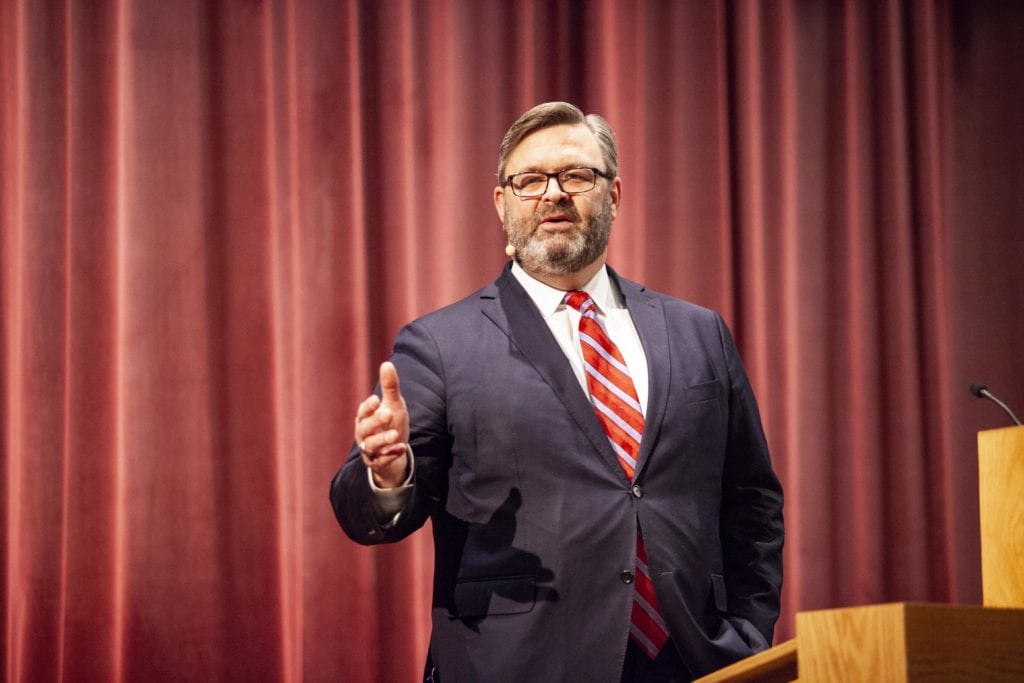 Hannibal-LaGrange University welcomed students back to campus on January 8, 2014. Then at chapel the following day, President, Dr. Anthony Allen, brought the message at the first service of the year.
Speaking out of the book of Philippians, Dr. Allen encouraged those present to find their joy in the Lord and to be joyful no matter the situation.
"Regardless of your circumstances, you can have a deep and abiding joy," he said. "As a believer, we must remember that joy is never dependent on our circumstances. Circumstances can color everything we do, but our attitude of joy should permeate all throughout even difficult circumstances."
Dr. Allen made everyone mindful of putting the Lord first as the new year is taking shape.
During chapel, Dr. Allen welcomed new students to HLGU and welcomed back the team of students that traveled to Israel over the Christmas break.
Forty students traveled to Israel to experience the roots of their faith as part of HLGU's partnership with Passages Israel, a company that provides this opportunity to students at a fraction of the normal cost. Passages Israel is sponsored by the Philos Project and the Museum of the Bible Foundation.
The HLGU Student Life office is excited to begin spring semester events. Upcoming events to which the public is invited include: 
Winter Homecoming – January 26
Carroll Mission Days Chapel – February 13, 14 at 10 am
Spring Musical: Little Women – April 11-13 at 7 pm
Music Department Concert – April 25 at 7 pm
Nursing Department Pinning – May 3 at 7 pm
Commencement – May 4 at 10 am
As always, weekly chapel services at 10 am on Wednesdays are open to the public. For more information, or to see a complete calendar of events, click here. For the athletic calendar, visit hlgtrojans.com.
by Rebecca Sneed '12