2021 HLGU Booster Banquet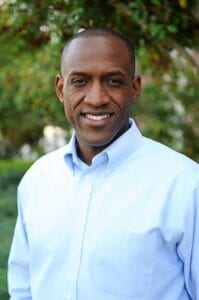 Join us for the our 80th annual Booster Banquet on Friday, November 19, 2021 at 7 p.m. This year's Booster Banquet will feature guest speaker Ken Bevel.
Ken Bevel is a native of Jacksonville, Florida. After 20 years of active service in the United States Marine Corps, Ken retired to serve in the ministry. He is currently the pastor of Membership and Local Missions at Sherwood Baptist Church in Albany, Georgia.
Ken is recognized by his role as Lieutenant Michael Simmons in the 2008 inspirational movie "Fireproof" and for his role as Nathan Hayes in the 2011 movie "Courageous."
Tickets will go on sale on September 1.
$50         General Admission Ticket – through Thursday, November 4, 2021 – Includes banquet admission
$65         General Admission Ticket – on and after Friday, November 5, 2021 – Includes banquet admission
$175       *Executive Admission Ticket – Includes reserved parking, admission to a special private reception with ken Bevel on November 19 from 5:30 pm to 6:30 pm, and a special reserved seat at the banquet. Attendees to the special private reception will meet Ken and have a photo taken with him.
$1200    *Sponsor a Round Table – Includes 8 executive tickets
*Due to the limited amount of executive tickets, you must call the HLGU Office of Institutional Advancement at (573) 629-3124 to purchase them by credit card only. 
For more information about the 2021 Booster Banquet, please contact Lauren Youse '05 M '16, director of alumni services and development, at 573.629.3126, or via email at lauren.youse@hlg.edu.
The HLGU Booster Banquet is sponsored by HNB Bank.

About Booster Banquet:
Each year HLGU family and friends gather for fun and fellowship at the annual Booster Banquet.
The name reflects its origins. On October 12, 1941, Dr. C. Oscar Johnson, pastor of Third Baptist Church of St. Louis and member of the College Board, proposed a Booster Banquet as a way to promote fellowship and raise money for the college. It was a "huge success" and became an annual event.
Over the years it has featured colorful and prestigious speakers from all walks of life. Today it is one of our most anticipated events. Booster Banquet is typically held the Friday before Thanksgiving.
Booster Banquet Archives
2009 Bruce Wilkinson
2008 Nazareth
2007 Gloria Gaither
2006 Guy Penrod
2005 Wally Magdangal
2004 Dennis Swanberg
2003 Joe White
2002 Dave Dravecky
2001 Heather Whitestone
2000 Darrell Scott
1999 Dr. Alan Keyes
1998 Ruth Graham McIntyre
1997 Mike Singletary
1996 Cal Thomas
1995 Naomi Judd
1994 Dan Shealy
1993 Mildred McWhorter
1992 Dr. Larry Lewis
1991 Dr. Debbye Turner
1990 Rex & Jennifer Hudler
1989 Tandy Rice
1988 Paul Wrenn
1987 Bill Glass
1986 Zig Ziglar
1985 William J. Murray
1984 Dr. Bertha Holt
1983 Honorable Wilmer "Vinegar Bend" Mizell
1982 Dr. Adrian Rogers
1981 Honorable John Ashcroft, Honorable Max Bacon
1980 Minnie Pearl
1979 Dr. J. D. Grey
1978 Jerry Clower
1977 Dr. A. E. Prince, Dr. L. A. Foster, Dr. Gerald Martin
1976 Dr. Ben Fisher
1975 Tom Lester
1974 Willa Dorsey
1973 Dr. Gerald Martin
1972 Dr. Dick Cole
1971 Dr. Frank Kellog, Harold Dickerson, Wally Jones
1970 Tom Haggai
1969 Paul Harvey
1968 Dr. Earl O. Harding
1967 Dr. Kenneth McFarland
1966 Dr. Wayne Dehoney
1965 Dr. Earl O. Harding
1964 Dr. Merrimon Cuninggim
1963 Dr. J. D. Grey
1962 Dr. Herschel Hobbs
1961 Dr. C. Oscar Johnson
1960 Rev. Charles F. Wellborn
1959 Dr. Sterling L. Price
1958 R. G. LeTourneau
1957 Dr. Porter Routh
1956 Dr. James L. Sullivan
1955 Dr. Earl O. Harding
1954 Dr. C. Oscar Johnson
1953 Dr. Wallace Bassett
1952 Lula (Pulliam) Colwell
1951 Congressman Clarence Cannon
1950 Dr. T. W. Medearis
1949 J. C. Penney
1948 Dr. M. E. Dodd
1947 Dr. C. Oscar Johnson
1946 Congressman Clarence Cannon
1945 Senator Frank P. Briggs
1944 Dr. J. E. Dillard
1943 Dr. Thomas H. Taylor
1942 Dr. C. Oscar Johnson