Devin & Charity Vester Scholte
Missionaries with Wycliffe Bible Translators currently serving in Papua New Guinea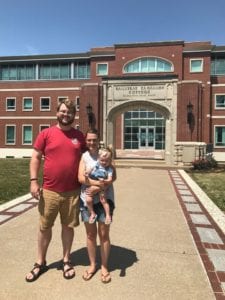 Devin Schlote and Charity Vester Schlote were both part of the HLGU traveling team, The New Edition under Sabrina Brookshire's leadership, when they realized God had some special plans for the two of them.
They graduated from HLGU in 2011. Devin earned a Bachelor of Arts in Bible degree and Charity earned a Bachelor of Science in Education in Elementary Education.
They were married in March 2012 and were blessed with a precious little girl, Keseda Scarlett Mae, in December 2016.
Devin went on to earn a Masters of Arts in Biblical Languages from Midwestern Baptist Theological Seminary and a masters certificate in Applied Linguistics from the Graduate Institute of Applied Linguistics.  Charity is currently working on her Masters of Arts in Religion from Liberty University online.
They are missionaries with Wycliffe Bible Translators currently serving in Papua New Guinea.  Devin is working in translation and the training of national translators and Charity is teaching 4th and 5th graders Social Studies and Science.