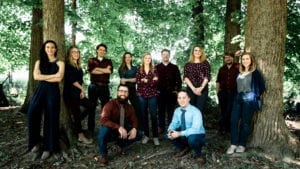 Hannibal-LaGrange University's Chamber Choir is a team of men and women who present sacred a cappella music as a worship ministry. Along with music of various styles, the group also shares testimonies, scripture, and life experiences associated with their music. Chamber Choir performs as a mixed choir. Programs of up to 45 minutes are prepared and can be flexible to fit your service. Chamber Choir travels to churches and events on a love offering basis.
For more information, or to book HLGU's Chamber Choir, please contact Director Ben Kendall at 573-629-3008 or ben.kendall@hlg.edu.
Meet Chamber Choir
Elayna Niermeyer, Alto


Union, MO
Senior
Liberal Studies
Brice Sherman, Bass
Kirksville, MO
Sophomore
Music
Emily Bonta, Alto
Trenton, MO
Sophomore
Music Education
Harrison Caples, Bass
Des Moines, IA
Sophomore
Bible
Morgan Reece, Alto
Hannibal, MO
Sophomore
Biblical Counseling and
Intercultural Studies
Rylan Poole, Baritone
Des Moines, IA
Freshman
Biology
Liliana Erskine, Soprano
Hannibal, MO
Senior
Math Education
Kyle Allen, Baritone
Louisburg, KS
Sophomore
Music
Katie Ewart, Soprano
Sophomore
Vocal Music Education
Noah Martin, Tenor
Kearney, MO
Senior
Criminal Justice
Cerenda Wharff, Soprano
Des Moines, IA
Sophomore
Nursing
Ben Kendall
Director
Upcoming Performances
There are no upcoming events at this time.