Melanie Smith, PhD
Chair, Division of Education
Chair, Education Department
Associate Professor of Education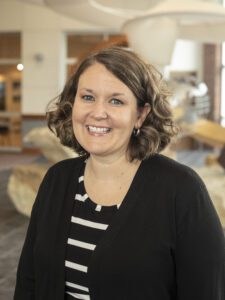 Melanie Smith began teaching at HLGU in the fall of 2014. Before accepting the position at HLGU, Smith spent two years as an elementary principal and ten years as a classroom teacher. "I was thrilled to make the move to Hannibal-LaGrange University," said Smith. "I strongly believe in its purpose and mission. When I step in the classroom each day, I strive to help my HLGU students see how educating future generations involves a life of service and a daily opportunity for them to be an example of Jesus Christ within the school system."
Outside the classroom, Smith enjoys reading, writing, and watching her children pursue their passions. Smith has two children, Hannah and Henry. Smith and her children reside in New London, MO, and attend Calvary Baptist Church in Hannibal, MO.
To prospective students, she says, "I would advise all prospective students to visit the beautiful HLGU campus and meet face-to-face with one of the professors in our education department. We love meeting prospective students!"
Educational Background
Doctoral Student in Curriculum and Instruction with a Language, Diversity & Literacy Studies Concentration, Texas Tech University, Present
Education Specialist in Administration, William Woods University, 2010
Master's Degree in Curriculum and Instruction, University of Missouri-Columbia, 2003
Bachelor of Science in Education, University of Missouri-Columbia, 2002
Memberships
International Literacy Association, 2013 - Present
Missouri State Teachers Association, 2001 - Present
Pi Lambda Theta, 2001 - Present
TTU Education Graduate Student Organization, 2017 - Present
Awards & Achievements
Albee, J.J., Dennis, L., Mundle, J., & Smith, M. (2013, April). Research and persuade: What animal should be new at the zoo? (International Reading Association's Outstanding Literacy Unit award) Literacy Research Panel: Evidence-based Practices for Literacy Education poster presentation at the 58th Annual International Reading Association Convention, San Antonio, TX.
Teaching Areas & Research Interests
Her research interests involve literacy and learning as a collaborative effort, as well as early literacy interventions.
Publications
Albee, J. J., Smith, M. L., Arnold, J. M., & Dennis, L. B. (2019). Digging Struggling Students Out of the Summer Reading Slump. The Reading Teacher, 73(3), 291-299.
Albee, J. J., & Smith, M. (2018, Spring). Best ways to engage with families. School and Community, p. 26- 32.